If Machu Picchu, one of the New Seven Wonders of the World is on your must-see list, take a side trip to Dolphin Mall this summer for an interactive and entertaining glimpse of Peru along with events, prizes and a big dose of fun.
In partnership with PromPeru: The Commission on the Promotion of Peru for Export and Tourism, Dolphin Mall will feature Peru-themed promotions from June 15 through Aug. 11.
"We're excited to bring a little bit of South America to Dolphin Mall this summer," says Madelyn Bello-Calvar, marketing & sponsorship director, "and to partner with PromPeru to showcase some of the rich culture and legacy of Peru."
Interactive Floor Graphic of Machu Picchu
The centerpiece of the promotional partnership is a spectacular, 3D interactive floor graphic of the fabled Machu Picchu, the Incan citadel named one of the New Seven Wonders of the World in a 2007 international Internet poll. World-renowned for her engaging, large-scale, 3D street paintings and chalk drawings, American artist Tracy Lee Stum has been commissioned to create a 12 x 18-foot, 3D graphic of Machu Picchu for shoppers to visit, photograph and enjoy. The interactive work can be found by the Information Booth in Ramblas 3 from June 15 through Aug. 11.
Public Event Saturday, June 15
On Saturday, June 15 from 3:00 PM to 5:00 PM, Dolphin Mall will host an event featuring Peruvian dance and musical performances by Masis Cultural Center.
Enter to Win
To help update your travel attire for your future trip to Peru, be sure to stop by the Information Booth in Ramblas 3, take your photo with the Machu Picchu Interactive Floor Graphic, and enter to win one of two $500 Dolphin Mall American Express Gift Cards.
A Taste of Peru
From June 15 through Aug. 10, visitors can stop at one of the restaurants featuring Peruvian inspired menu items.  Participating restaurants include Mojitos Cuban Restaurant, Catch of the Day Seafood, Bar and Grill, Rotelli Pizza & Pasta, Taverna Opa, Charcoal's Latin Grill, Texas de Brazil Churrascaria, and many more.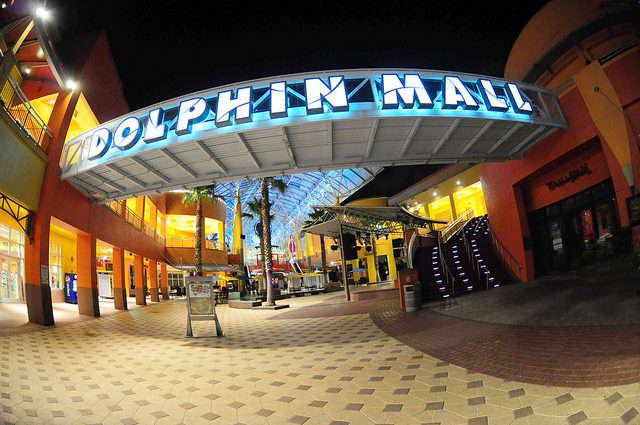 Dolphin Mall is an enclosed value retail/entertainment/dining destination with 240 retailers, restaurants and entertainment options.  It is located just five miles west of Miami International Airport, where the Dolphin Expressway and the Florida Turnpike intersect.  Shoppers can access the mall by taking Exit 27 off the Florida Turnpike.  Hours of operation are Monday through Saturday 10 a.m. to 9:30 p.m. and Sundays 11 a.m. to 8 p.m. with extended hours in the Ramblas entertainment area.  Preview the stores, the styles and the savings atwww.shopdolphinmall.com.