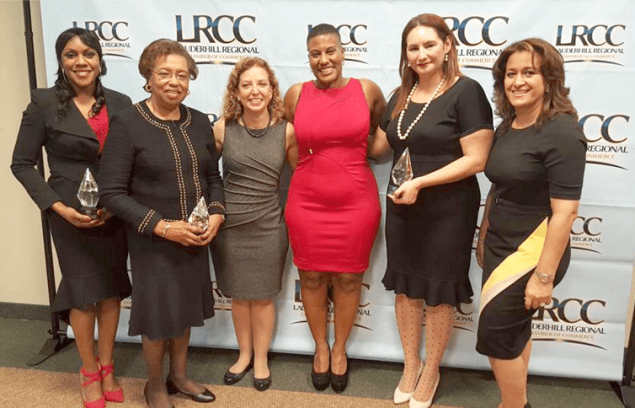 Ft. Lauderdale, Fla. (April 26, 2016) – Dr. Lanalee Sam, OB/GYN and medical director of women's services at Florida Medical Center, receives recognition as a 2016 Woman of Distinction. She was one of 10 women recently honored at the Lauderhill Regional Chamber of Commerce Women of Distinction breakfast for her professional achievements and extraordinary community contributions in 2015. Nearly 300 people were in attendance to hear from the honorees and keynote speaker, Debbie Wasserman Schultz, Democratic National Committee Chair.
"As a leader in her profession, Dr. Sam is a talented physician with vast accomplishments," said Trey Abshier, CEO of Florida Medical Center. "She is unfailing in her commitment to provide excellent care for our patients. No one is more deserving of this prestigious honor."
Dr. Sam's speech was about climbing mountains, both figurative and literally. Last year, she served as the team physician for the Freedom Challenge, where she and a group of individuals climbed Mt. Kilimanjaro to raise money and awareness about human trafficking. Through this climb, Dr. Sam helped raise over $1 million in donations.
"Whether it's to inspire, educate or lead, I believe that 'those who can, must,'" said Dr. Sam. "All of my fellow honorees expound this philosophy."
Dr. Sam is a member of numerous associations including the American Medical Association, the American Medical Women's Association, the Broward County Medical Association and the American Association of Gynecologic Laparoscopists. Moreover, Dr. Sam has been the recipient of numerous grants, awards and honors for her philanthropic work and medical research. In 2014, she was deemed one of South Florida's 50 most Powerful and Influential Black Professionals, and more recently, her international reach was recognized at the Women4Africa Awards in London.
###
About Florida Medical Center, a campus of North Shore
Florida Medical Center, a campus of North Shore is a 459-bed acute care hospital founded in 1973 and is a part of Tenet Healthcare's Florida region. Located at 5000 West Oakland Park Boulevard in Fort Lauderdale, Fla., Florida Medical Center is the home of The Heart Institute of Florida, the hospital's center for cardiac services which offers a Hybrid Operating Suite, Heart Valve Clinic, Chest Pain Center and the Aortic Disease Institute of Florida.
The hospital is one of the only Comprehensive Stroke Centers in Western Broward County as designated by the Florida Agency for Healthcare Administration, allowing physicians and staff to offer a higher level of stroke care to its patients. Florida Medical Center's Surgical Weight Loss Center is also a designated Bariatric Center of Excellence by the American Society for Metabolic and Bariatric Surgery.
Florida Medical Center offers a broad range of medical and surgical services including: neurology and neurosurgery, a comprehensive orthopedics program, urology, psychiatry, gynecology, diagnostic imaging, pain center, wound care, diabetes education and 24-hour emergency services. Florida Medical Center has also recently opened a dedicated Senior Care Unit and Senior ER to accommodate the needs of the aging community.
Florida Medical Center received the following awards from Healthgrades, the leading online resource that helps consumers search, compare and connect with physicians and hospitals: ranked among the top 10% in the nation for cardiology services and coronary interventional procedures in 2014, five-star recipient for Coronary Intervention Procedures for 3 years in a row (2013-2015), five-star recipient for coronary interventional procedures for three years in a row (2013-2015), and five-star recipient for the treatment of heart failure two years in a row (2014-2015).
Florida Medical Center has also received recognition from the American Heart Association's Get With The Guidelines Gold Plus Performance Achievement Award in stroke care and the target stroke honor roll, the highest distinction awarded for stroke care. Florida Medical Center is fully accredited by The Joint Commission, the nation's oldest and largest hospital accreditation agency. To learn more about Florida Medical Center, visit www.FloridaMedCtr.com.