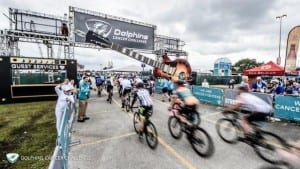 The Miami Dolphins recently capped another successful Dolphins Cancer Challenge (DCC). The sixth edition of this annual community endeavor boasted more than 3,300 cancer fighters who biked, ran, walked, volunteered and donated throughout all of South Florida with a goal to tackle cancer. The event culminated with a Concert Celebration presented by Pepsi at the stadium on the Hard Rock Stage by Grammy Award winners Sheryl Crow and Melissa Etheridge.
"The Dolphins Cancer Challenge is about everyone working together to fight cancer," Miami Dolphins President & CEO and DCC VI Chair Tom Garfinkel said. "100% of participant fundraising goes directly to Sylvester Comprehensive Cancer Center for essential cancer research that changes lives."
Participants in 2016 had the option of six bike routes, the 5k run/walk and attending the Concert Celebration presented by Pepsi. The DCC continues to solidify its position as the largest event fundraiser in the NFL. Participants included Grand Marshals and Dolphins Executive Vice President of Football Operations Mike Tannenbaum and Head Coach Adam Gase, as well as Dolphins players and alumni such as Dan Marino, Nat Moore, Dick Anderson, A.J. Duhe, Kim Bokamper, Chris Conlin, John Offerdahl, Mark Duper, Michael Thomas and Ndamukong Suh.
"We are tremendously grateful to everyone who participated in the Dolphins Cancer Challenge today," Sylvester Director Stephen D. Nimer, M.D. said. "We are so excited the community has embraced and supported this remarkable event to raise critical funds for cancer research at Sylvester. Finding new treatments and cures for cancer is a challenging task and every dollar makes a difference in helping us to develop more pinpoint diagnostic tests and targeted treatments."
The Dolphins Cancer Challenge will donate 100% of the participant-raised Ífunds to innovative cancer research at Sylvester. Funds are still being collected through March 31, 2016. As the DCC's beneficiary, the University of Miami had a team of more than 800 participants which included Head Football Coach Mark Richt to kick off the Hurricanes Hundred loop.
For the first time, the DCC ended with a Concert Celebration presented by Pepsi at the AutoNation Finish Line with artists Sheryl Crow and Melissa Etheridge performing in front of a crowd of more than 5,000.
"It was an honor to play in front of thousands of cancer fighters today," Grammy-Award winner Sheryl Crow said. "The electric atmosphere at the stadium, surrounded by people all united for one cause – what an amazing day."
The Dolphins Cancer Challenge will continue raising funds for cancer research with its inaugural DCC Celebrity Golf Tournament hosted by Turnberry Isle Resort & Golf Club on April 4, 2016. Co-Chaired by Don Soffer and James Caan, the tournament will offer cancer fighters a chance to golf and interact with athletes and other celebrity guests. One hundred percent of the funds raised from the golf tournament will benefit Sylvester.
For more information, visit www.DolphinsCancerChallenge.com.