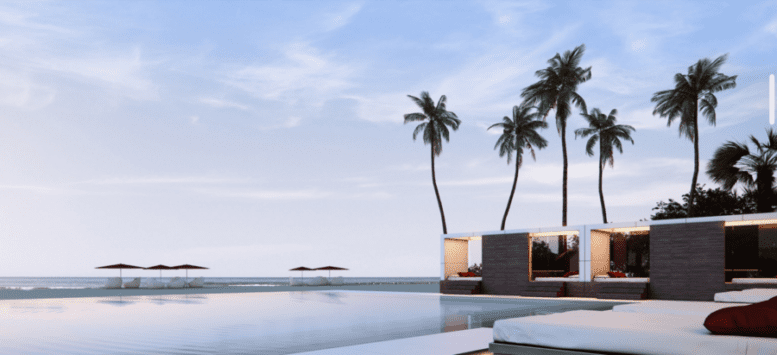 On Monday, Feb. 13, real estate developers Property Markets Group and S2 Development introduced an exclusive collaboration of MIND, BODY and SOUL with world-renowned health expert Dr. Deepak Chopra at a private speaking engagement held at the Four Seasons Hotel in Brickell. The event marked the official unveiling of a partnership between Property Markets Group and S2 Development, the experts in luxury living, together with Delos™ and Dr. Deepak Chopra, to offer residents a revolutionary wellness lifestyle. Seven exclusive residences at Muse offer a blend of features focused on three core wellness principles: air, water and light; seamlessly integrated to awaken and restore the residents' physical and emotional wellbeing in the comfort of their own home.
Throughout the event, Delos™ showcased wellness activations that will be found at Muse to give brokers and prospective buyers a first-hand look. Featured activations included: advanced air purification systems, which are automated with sensor technology to remediate compromised air quality; Circadian lighting systems, which help to regulate hormone balance, appetite, sleep, productivity and energy levels; and Automated Wellness Sensors, which continuously monitor the home to help maintain the quality of the indoor environment. Dr. Chopra also addressed practical ways to elevate the mind, body and soul within your life and home. The exclusive partnership will raise the bar for healthy living, creating a first-time experience for home buyers.
Property Markets Group and their co- developer partner S2 Development, bring to fruition a hidden gem in the heart of Sunny Isles Beach- Muse Residences which will offer a unique living experience. Soaring more than 650 feet high, this boutique residence will offer exclusive amenities and large living spaces exclusive to only 68 residents. With conceptual design by the world-renowned, Carlos Ott, and execution from Sieger Suarez Architectural Partnership, this dream team will bring life to a vision never before seen in this area. In addition, PMG continues to set the bar for the meaning of luxury, bringing living and art to the next level. The developers have commissioned and selected world-renowned artist Helidon Xhixha to design a unique piece for each resident at Muse. Muse Residences embody the best of oceanfront living through customized upscale finishes, advanced technology and an abundance of luxury amenities.
The fully finished residences are move-in ready and outfitted with the utmost state-of-the-art technologies. Muse offers residents breathtaking views and a variety of spacious floor plans. The residences at Muse are delivered fully finished, with 11′ ceilings with floor-to-ceiling windows, outdoor living spaces complete with summer kitchens and upscale flooring.
This slideshow requires JavaScript.
Photo Credit: World Red Eye