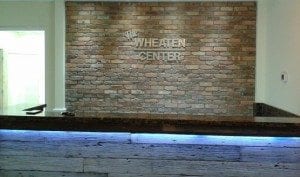 If ringing in new business is your resolution, leasing a luxurious office at The Wheaten Center Executive Suites from just $375 per month could be the start of a very happy and profitable New Year.
The Wheaten Center's winning shared office space concept is now making it possible to appreciate affordability plus the perks of a newly renovated, upscale executive suite with exclusive amenities – but none of the effort or exorbitant setup costs typically associated with opening an office and maintaining operations.
Conveniently located on the first floor of 13499 Biscayne Boulevard in North Miami with easy access to US-1 and I-95, The Wheaten Center's all-inclusive package is an ideal turnkey solution for busy professionals who want to keep business building resolutions like these:
• Impress Clients: Visitors are greeted at an elegant reception area with ample seating; new office furnishings are available upon request; and the Wheaten Center features free covered parking as well as 24 hour building security.
• Add Ample Meeting Space: Instantly access two large multimedia conference rooms.
• Communicate More Efficiently: A copy, fax and mail center are always at your disposal and hi-speed Wi-Fi is available.
• Take Faster Breaks: A brand new kitchen is on site, complete with coffee and vending machines.
• Save Space: The Wheaten Center's shared common area distinction eliminates the need for occupying more space than may be needed for an office or satellite location.
• Personalize Size: Need a virtual office, court reporting office or mediation rooms? The Wheaten Center can help create a corporate identity for anyone who doesn't necessarily need an office five days a week.
• Increase Value: Wheaten Center developer Russel Lazega, an entrepreneurial attorney who founded Florida
Advocates, especially relates to the value of eliminating high overhead with price per square foot savings – yet another Wheaten advantage.
If opening the door to a new office from just $375 per month sounds like the most affordable resolution you'll want to keep for many years to come, contact The Wheaten Center Property Manager Roger Bechler for more information: Phone: 772-285-2206 or email rogerbechler@gmail.com