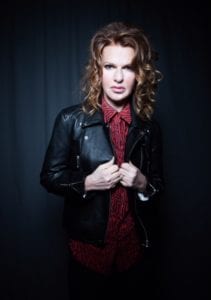 The Casino @ Dania Beach, the newest casino to hit the South Florida gaming scene, will present an evening with comic Sandra Bernhard on March 11 at 8 p.m., at Stage 954, the casino's signature performance venue. In Bernhard's only South Florida stop, "Sandra Monica Blvd: Coast to Coast" will take audiences on a journey to find the soul of America, alongside her band, The Sandyland Squad. This show is presented by Dania Entertainment Center in conjunction with Full House Entertainment.
"We are honored to have the hysterical and provocative Sandra Bernhard performing from Stage 954," said Scott Savin, Chief Executive Officer of The Casino @ Dania Beach. "Sandra's combination of edgy comedy and biting satire will give the audience a lot to think about and a show to remember."
It's hard to label the uber-talented Sandra Bernhard, whose descriptions extend from comic, actress, author and musician to pop-icon. Bernhard, who got her start in comedy in L.A. clubs in the 1970's, is in more demand than ever, and is currently the host of her own radio show on SiriusXM's Sandyland. She is known for her biting commentary and her trailblazing roles,
including the first openly gay character on a network sitcom as Nancy Bartlett on Roseanne. In 2016, she was the face of the Marc Jacobs Spring 2016 campaign alongside Bette Midler.
The comedy show is 21 and over. Tickets start at $25. VIP tables are available for $300 and include seating for four. For more details, visit casinodaniabeach.com or call 844.234.SHOW.
The Casino @ Dania Beach, located at 301 E. Dania Beach Blvd., is open 9 a.m. to 3 a.m. Sunday through Thursday; 9 a.m. to 4 a.m. Friday through Saturday.
The Casino @ Dania Beach will also present the following shows:
February 24 Little River Band (8 p.m.)

February 25 Best of Boston Comedy starring Christine Hurley & Pete Costello (8 p.m.)

March 4 The Original Drifters & The Crystals (8 p.m.)

March 23-24 Air Supply (8 p.m.)

April 8 Chris Kattan and Friends (8 p.m.)
About The Casino @ Dania Beach
The Casino @ Dania Beach, the most recent entry into South Florida's gaming scene, offers an all-new gaming and entertainment experience in a friendly and smoke-free environment. After undergoing more than $60 million in renovations, it features 900 Las Vegas-style slot machines, a luxurious Card Room, electronic table games including blackjack, craps and roulette, live Jai-Alai and a multi-purpose indoor entertainment venue, as well as free parking and valet service. The Casino @ Dania Beach also features Luxe, an upscale gourmet buffet, and an outpost of Roasters' n Toasters, a South Florida institution beloved for its New York-style deli and bagels. For more information, visit www.casinodaniabeach.com.