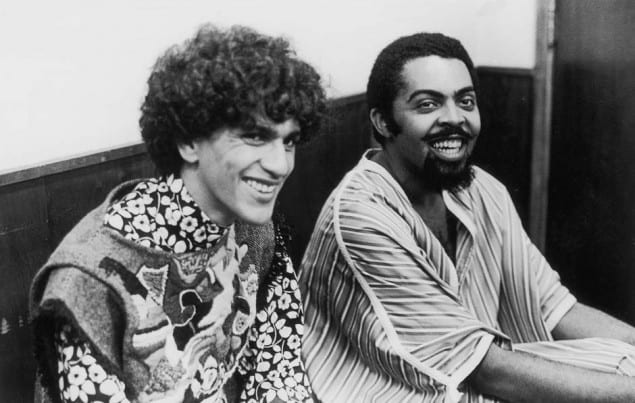 Two giants of Brazilian music, Caetano Veloso and Gilberto Gil, reunite for a rare and intimate acoustic duo performance on Saturday, Apr. 16, 8 p.m., at Bayfront Park Amphitheater, 301 Biscayne Blvd.
Their 50 years of musical collaboration continues — two friends whose diverging paths have always remained at the forefront of modern Brazilian culture, spanning musical revolutions, exile, politics and a lifetime of incredible songs. And now they come to Miami, together for the first time — just two friends and their guitars, and a lifetime of music that helped changed the world.
The admiration they have for each other made it hard to choose a set list for this special tour. They will perform material from their new live album containing many of the classic hits, Dois Amigos, um Século de Música (Two Friends, a Century of Music), including:
Andar com Fé, Esotérico, and Expresso 2222 by Gil, and Sampa, Terra, and A Luz de Tieta by Veloso.
Both Veloso and Gil have been at the forefront of Brazilian culture since the late 1960s, as co-founders of the uniquely Brazilian psychedelic cultural explosion Tropicália. The echoes of the work they and partners — Maria Bethânia, Gal Costa, Os Mutantes and others — made, continues to rumble through music and art across the Americas and Europe today. Yet neither Veloso nor Gil have ever become a nostalgia act. Independently, each has continued to create modern, vital music and art on an international level.
Veloso's participation in this duo comes at the conclusion of his Banda Cê trilogy, which found the Brazilian icon exploring indie rock with a group of young musicians. He has also been engaged with film scores and other innovative projects, and producing international artists.
Gilberto Gil returned to the concert stage after serving as Brazil's Minister of Culture between 2003 and 2008. Since then he has recorded several albums, including Gilberto's Samba, which was nominated for a Grammy Award this year.
Tickets are available at LiveNation.com or 1-800-745-3000 for $25-$79.25.
This concert is presented by The Rhythm Foundation, with support from Faena Miami Beach, LATAM Airlines Group, Novecento Restaurants, Boteco Miami, Gazeta Brazilian News, Acontece Magazine, Miami-Dade Department of Cultural Affairs and the Florida Department of State Division of Cultural Affairs.