ArtCenter/South Florida announces its new lineup for Art Basel season, introducing the new programming centerpiece/exhibition: An Image (on view through December 18 at 924 Lincoln Road in Miami Beach). An Image launches ArtCenter/South Florida's new formula for public programming, with the exhibition itself serving as a stage for educational seminars, events, performances, screenings, lectures, theoretical sessions and artistic encounters.
"As ArtCenter/South Florida transitions into this next phase centered around new public programming initiatives, the heart of our story continues to be all about spearheading new ways to support artists," says ArtCenter's Executive Director, Maria del Valle.
"With An Image as the centerpiece to introduce our new public programming models, we have brought together a stellar group of change-makers and artistic influencers in ways that Miami's visual arts community has never benefited from before. Our lineup for Art Basel Miami Beach 2016 presents this new programming initiative, and features internationally renowned The Otolith Group from London."
ARTISTS & EVENTS
Co-curated by Natalia Zuluaga (ArtCenter's Artistic Director), and Domingo Castillo, An Image features works by the artists: Enrique Castro-Cid, Harun Farocki, Alan Gutierrez, (Human) Learning (Roxana Fabius & Federico Pérez Villoro), Barbara Kasten, and Suzan Pitt. The original soundtrack is by Heinrich Mueller-Dataphysix Renormalon.
The exhibition also includes a rich series of public programs including: Black Radical Imagination (film screening and conversation with curators Amir George and Erin Christovale); lectures by Manuel Shvartzberg, Gerald Nestler and Jonathan Beller; and Alan Poma's multimedia opera La Victoria Sobre El Sol.
"With this newly created synthesis of artistic programming, ArtCenter's goal is to bring cultural producers and the community at large together to think and act upon the dynamics that are impacting present-day political and economic configurations – within and outside the boundaries of the cultural sphere," said Natalia Zuluaga, ArtCenter's Artistic Director. Read more about the exhibition and its new programming concepts at artcentersf.org/fall2016/animage.
The title, An Image is borrowed from Harun Farocki's film under the same name and points to the way images intersect, supplant, and change our economic and social realities.
THE PINK HOUSE
The exhibition space serves as a stage that has been created as a base-image for the rest of the programming. The design of the exhibition is based on an interpretation of archival material from the iconic Pink House located in Miami Shores, designed by Arquitectonica in the 1980s. "The home is one of the most photographed works of architecture in Miami, to such an extent that its appearance in the 1980s television series Miami Vice functioned more like a character than a location," added the exhibition's co-curator, Domingo Castillo.
ICONIC FIVES SHADES OF PINK
"An Image, as an exhibition, attempts to question and retool the power of images through objects, lectures, performances, film screenings, and study groups. This multifaceted approach allows for ideas to unravel over time, offering up the institution as a stage where the intersection between images and image-making could be addressed and reconsidered alongside some of the racial, economic, and social inequalities of our time," said Natalia Zuluaga, ArtCenter's Artistic Director.
"An Image appropriates the iconic 'five shades of pink' from this landmark home in an attempt to capitalize on the way it reshaped the international image of Miami – using the city as a prism from which to think about the way ideas of luxury and real estate dreams were formed," adds Zuluaga.
Located on the second floor of ArtCenter's flagship location at 924 Lincoln Road in Miami Beach, the exhibition features a mixture of photographs, installations, video, film, and paintings that surround a study table designed by Brian Booth. Aided by the interaction between Alan Gutierrez's lighting installation and the strategic nuancing of architectural angles and other design details, the exhibition evokes the feeling of being part and parcel in the production of an image.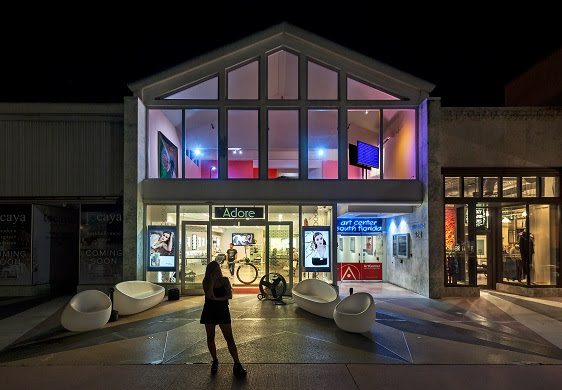 ART BASEL WEEK 2016
Friday, Dec. 2 from 9:00 a.m. until 12:00 p.m.
ArtCenter invites guests for two concurrent Open Studio Brunches at the Lincoln Road gallery (924 Lincoln Road, 9:00 a.m. -12:00 p.m.) and the new Downtown Miami location (1035 North Miami Ave #300), here guests will be invited to meet the artists and mix-and-mingle with art collectors, patrons and curators.
Saturday, Dec. 3 at 2:00 p.m. (924 Lincoln Road)
ArtCenter will present an artist talk by London-based collaborative The Otolith Group as part of the new exhibition, An Image. The conversation with The Otolith Group is Saturday, December 3rd at 2:00 p.m. at 924 Lincoln Road. This event is free and open to the public. The event is free but guests are encouraged to RSVP. The talk will feature London-based Anjalika Sagar (in person) and Kodow Eshcun (via Skype), who founded the group in 2002. The collaborative group is research-based and focuses on the essay film as a form that examines conditions, events and histories within a gallery context. The talk will be moderated by Graham Eng-Wilmot, a doctoral candidate in the Ph.D. Program in Visual Studies at the University of California, Irvine. This discussion will address the representation of storms in cinema and art cinema using Indian neo-realist cinema as a key example.