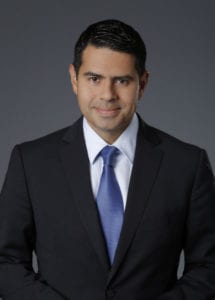 Belen Jesuit Preparatory School is proud to announce that alumnus from the Class of 1991, Mr. Cesar Conde, Chairman, NBCUniversal Telemundo Enterprises and NBCUniversal International Group will be the commencement speaker at the James L. Knight Center on Wednesday, June 1 at 7:00 p.m.
"We are deeply honored that Mr. Conde accepted our invitation to be part of this important milestone in the life of these young men," said Jesuit Father Guillermo M. García-Tuñón, Ed.D. '87, Belen Jesuit's President of the school. "I am sure he will leave a profound and lasting message to the 227 students that make up the Class of 2016 and to the whole Belen community."
"As a Belen alumnus, I am extremely proud and humbled to be invited to be the Commencement Speaker at the graduation of the Class of 2016," said Cesar Conde, Chairman, NBCUniversal Telemundo Enterprises and NBCUniversal International Group.  "Belen's relentless commitment to excellence and to serving others is what makes it one of the finest educational institutions in our country. I look forward to sharing this special day with the graduating class and their families."
The James L. Knight Center is located at 400 SE Second Ave in Miami, 33131.
 Conde joined NBCUniversal in October 2013 as Executive Vice President of NBCUniversal where he oversaw NBCU International and NBCU Digital Enterprises. Prior to NBCUniversal, Conde was the President of Univision Networks. He joined Univision in 2003 and served in a variety of senior executive capacities and is credited with transforming it into a leading global, multi-platform media brand. Prior to Univision, Conde served as the White House Fellow for Secretary of State Colin L. Powell from 2002–2003. Previously, he worked at StarMedia Network, the first internet company focused on Spanish- and Portuguese-speaking audiences globally, and in the Mergers & Acquisitions Group at Salomon Smith Barney.
Conde is a Trustee of both the Aspen Institute and the Paley Center for Media. He is a Full Member at the Council on Foreign Relations and a Young Global Leader for the World Economic Forum. He sits on the board of the Foundation for Excellence in Education and the White House Initiative on Educational Excellence for Hispanics. He holds a B.A. with honors from Harvard University and an M.B.A. from the Wharton School at the University of Pennsylvania.
The Jesuits founded Belen Jesuit Preparatory School in 1854 in Havana, Cuba.  In 1961, when Belen and all private schools were confiscated by the new political regime, the school was re-established in Miami that same year and has grown over the last five decades.  Currently the enrollment is nearly 1,500 male students in grades 6 to 12 and over six thousand alumni. Since 2006, Belen Jesuit has been named one of the Top 50 U.S. Catholic High Schools by the National Catholic High School Honor Roll. The Jesuits and the faculty give their lives to the school so that young men can receive a strong Catholic formation in the tradition of Saint Ignatius of Loyola.