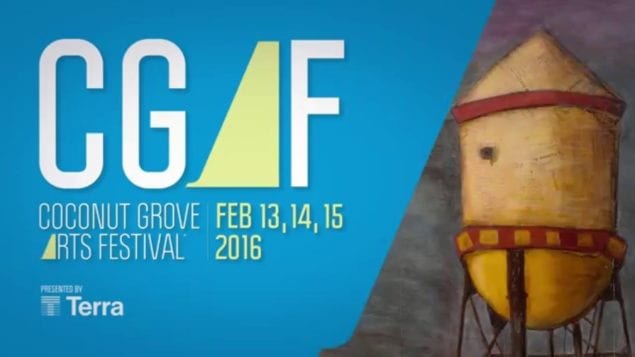 There's still time to apply to the annual Coconut Grove Arts Festival® (CGAF) presented by Terra! CGAF is accepting applications from artists around the world for participation in the upcoming 54th edition of this signature event from now until September 17.
The Arts Festival will be held February 18-20, 2017 and will feature works in clay, watercolor, sculpture, painting, photography, jewelry and metalwork, fiber, mixed media, print making and drawing, glass and wood.  
The Coconut Grove Arts Festival is one of the largest and most prestigious fine art exhibitions in the United States, attracting more than 120,000 people annually.
This award-winning Arts Festival is located along scenic Biscayne Bay on the trendy streets of Coconut Grove, one of Miami's most unique and historic neighborhoods. Coconut Grove has long been a hub of artistic talents, architecture and culture with its diverse residents and continuous waves of visitors.  
Artists will be able to meet and talk to admiring visitors, sample various cuisines from renowned chefs and enjoy first-class entertainment including music, theatre and dance. Participating artists will also receive daily complimentary coffee, pastries and lunch.  The Arts Festival provides booth sitting and 24-hour security to protect the safety of artists and their collections.
2-2-2/Coconut Grove Arts Festival Seeks Artists
Interested artists may apply online at www.CGAF.com. There is an application fee of $55 and the submission deadline is September 17. The Coconut Grove Arts Festival (CGAF) will be held Presidents Day Weekend, February 18, 19 and 20, 2017.  For more information, visit www.CGAF.com.
ABOUT THE COCONUT GROVE ARTS FESTIVAL
The Coconut Grove Arts Festival® is produced by the nonprofit, 501(c)(3), Coconut Grove Arts and Historical Association. Proceeds help fund year-round arts programs.  The association also maintains the Gallery @ CGAF and presents special exhibitions throughout the year from its location at the Mayfair in the Grove. Since its inception in 1963, the association has awarded hundreds of scholarships to students who attend fine arts programs in local schools. For more information, visit www.CGAF.com.