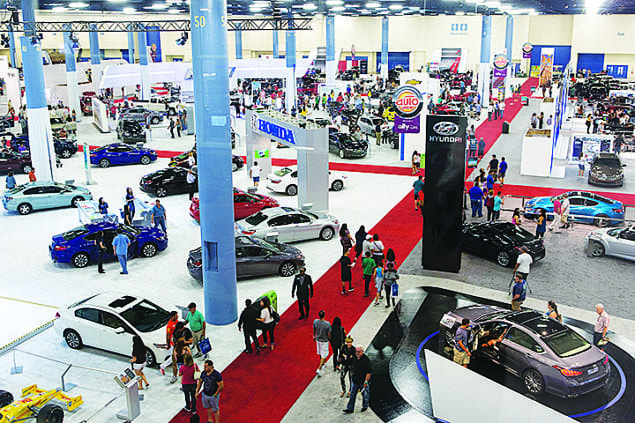 South Florida's car aficionados will be getting their first glimpse of the available new 2017 and 2018 models earlier than in previous years as the Miami International Auto Show presented by Ally will roll into the Miami Beach Convention Center Sept. 10-18.
The first major auto show of the season, the Miami auto show is considered among the nation's leading auto exhibitions. This year's 46th edition will present the latest cars, crossovers and SUV's from the major manufacturers.
Such popular exhibits as Memory Lane, Million Dollar Alley, Topless in Miami, Camp Jeep and Car Boutique are expected to again be featured.
"In recent years, major auto manufacturers have asked that our show move earlier so as to guarantee that we would receive the newest and most talked about autos," said Rick Baker, auto show manager. "With the multimillion-dollar renovation of the Miami Beach Convention Center now underway, it was the right time to move the show's dates."
A number of auto manufacturers including Nissan, Genesis, Ford, Toyota, Honda, Lexus, Fiat and Alfa Romeo are planning major announcements in Miami such as a global debut of a new SUV and debut of new sedan model during the show's media activities.
The auto show will once again giveaway a new vehicle to one lucky attendee in a drawing sponsored by the South Florida Chevrolet Dealers and the Miami International Auto Show. This year the prize is a 2017 Chevy Cruze LS with a MSRP of $19,995. 2-2-2/ 46th Annual Miami International Auto Show Opens September 10th.
Camp Jeep offers attendees the opportunity for an off-road experience as Jeep experts take riders around a special layout just outside the main entrance of the Miami Beach Convention Center and demonstrate the legendary 4×4 capabilities of Jeep vehicles.
In addition to being able to take in the vehicles at their leisure, show goers also will be able to enjoy Miami Beach's famed Ocean Drive backdrop when getting behind the wheel of selected new models from manufacturers like Kia, Nissan, Mazda, Toyota and Chevrolet during the show's Ride & Drive opportunities.
The Topless in Miami exhibit will have on display drop tops from the annual competition sponsored by the Southern Automotive Media Association (SAMA).Among the 2016 winners were the 2017 Mercedes-Benz SL65 AMG (Super Luxury/Exotic and Convertible of the Year), Mazda MX-5 Miata (SmallConvertible), Chevrolet Camaro (Performance Full-Size) and Chrysler Pacifica (Panoramic Affordable).
In Million Dollar Alley, visitors will again be able to fantasize about their ultimate joy toy, a six-figure motorcar. Among the lines scheduled to be represented are Bugatti, Pagani, Ferrari and Lamborghini.
The Auto Show is presented by the South Florida Automobile Dealers Association which comprises more than 190 dealerships in Miami-Dade, Broward, Palm Beach and Monroe counties making it larger than some state-wide auto dealer groups. For information on the Miami International Auto Show, visit www.miamiautoshow.net