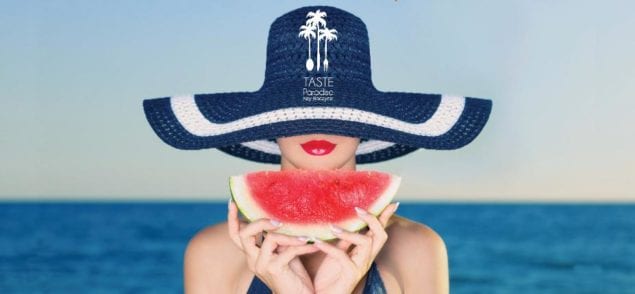 The Key Biscayne Chamber of Commerce will present its 2nd annual Taste Paradise during the full month of October this year following the success of last year's inaugural event. Key Biscayne restaurants will offer a grand variety of dining deals with special prix fixe (fixed price) menus for Breakfast, Lunch and Dinner from October 1-31, 2016.
Restaurants fall into either casual or fine dine category — casual: breakfast $10, lunch $15, dinner $25; fine dining: lunch $20, dinner $35. The ultimate goal is to draw diners from Key Biscayne and from the Greater Miami Area to explore the Key's gastronomic offerings.
 Four new restaurants that opened on the island since the inaugural Taste Paradise will be participating in this year's Taste Paradise: Forks (Mediterranean & International cuisine), Le Macaron Key Biscayne (French pastries), Pita Pockets (Mediterranean made healthy, fresh, and fast), and Stefano's Lounge ("The Rebirth of Cool").

The full list of participating restaurants includes: Archie's Bistro; Boater's Grill; Cantina Beach, The Ritz-Carlton Key Biscayne; Costa Med; Fairways on the Key (inside Crandon Park Golf Course); Forks; Francesco at the Towers; The Golden Hog; Kazumi; Le Macaron Key Biscayne; Novecento Key Biscayne; Patagonia Nahuen; Pita Pockets; Puntino Key Biscayne; Stefano's Lounge; Tutto Pizza & Pasta; Whiskey Joe's Miami.
There will be a number of special events this year, including the 2nd Annual Cuban Extravaganza at Boater's Grill in Bill Baggs Cape Florida State Park on Thursday, October 27th. The popular waterfront event includes live music, roast pork dinner and other surprises for $15. RSVP required by calling (305) 361-0080.
The Chamber's Marketing Committee — chaired by Nora Camejo, Publisher of Key Biscayne's Lions Club Directory, graphic and web designer — is making a special invitation to Greater Miami residents to head over the Rickenbacker Causeway to Key Biscayne for an exotic fusion of flavors makes Key Biscayne a veritable epicurean paradise. "Chefs from participating restaurants are creating dishes from exotic parts of the world. Key Biscayne's dining culture is just as diverse as its residents and visitors," says Nora Camejo.
The event is also made possible by the generous support of this year's Taste Paradise Friends: Brickell Chiropractic & Wellness, Cindy Mize, Coldwell Banker Real Estate, DesignOne Graphics, EWM Realty International, Home Federal Bank of Hollywood, The Island Clinic, Key Pharmacy, Mercy Hospital, The Produce Connection, and Toy Town.

A new pet component has been added to Taste Paradise this year to commemorate the opening of Key Biscayne's new dog park scheduled to coincide with the Village's 25th anniversary of incorporation set for September 25th. "Canine Treats," compliments of Taste Paradise's silver sponsor Brigitte de Langeron of MiamiWaterfront.com will be given to all four-legged diners at participating Taste Paradise restaurants, along with a variety of goodies provided by Animal Crackers, Paw Life and KB Dog Park.
For more, visit TasteParadiseKB.com, call 305-361-5207, or email tatyana@keybiscaynechamber.org.
Click here for Taste Paradise 2016 menus.
Click here for restaurant pics.

About The Key Biscayne Chamber of Commerce and Visitors Center
The Key Biscayne Chamber of Commerce was established in 1957 as an association of business owners, residents and professionals who work together to support the economic interests of the Key Biscayne community. Membership is open to any person, partnership, association or corporation interested in the business, commercial, professional and civic welfare of the Village of Key Biscayne. Key Biscayne Chamber Visitors Center is a one-stop shop providing information and advice for visitors to Key Biscayne. The Center is staffed Monday through Friday 9 AM to 5 PM with a walk-in foyer open 24/7. For more, visit keybiscaynechamber.org or call 305-361-5207.
About Brigitte de Langeron
Brigitte de Langeron offers 20 years of experience in Key Biscayne's luxury real estate market.  Internet and social media savvy, her commitment as your local REALTOR® is to provide you with the specialized real estate service you deserve. For more, visit miamiwaterfront.com or Instagram @miamiwaterfront or call 305-244-7493.