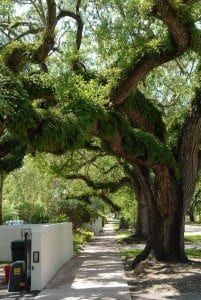 South Florida's first planned community, Coral Gables is a green oasis in the heart of one of the nation's largest metropolitan areas. The 13-square-mile City is well known for its lush, elegant surroundings, 47 miles of winding waterways and stable residential neighborhoods. Its climate is mostly sunny yearround with temperatures ranging from an average annual high of 81 degrees Fahrenheit to a low of 60.
A walk through town makes it clear why the Wall Street Journal named Coral Gables "the sixth most walkable suburb in the United States." Night and day, the city's Downtown is bustling with pedestrians who have easy access to hundreds of restaurants and an abundance of shops, many within walking distance of the downtown business district. The variety and convenience of these amenities is a significant benefit for employees who use personal and professional services during lunch, or before and after work hours. The City's many cultural offerings are also proving attractive to a growing creative class. Rand McNally and USA Today ranked Coral Gables as one of the six most beautiful towns in America, and in 2013, LivCom ranked Coral Gables among the five most livable communities of its size in the world.
One of the City's most exciting current initiatives is an investment of more than $20 million to make Miracle Mile, the City's main street and one of its central shopping and dining areas, vibrant pedestrian destination. The initiative, which also includes "restaurant row" on adjacent Giralda Avenue, is expected to include widening the public spaces to create areas for al fresco dining and creating a more engaging retail experience. The award-winning New York firm Cooper Robertson and Partners is currently engaged in an artful approach to redesigning both Miracle Mile and part of Giralda Avenue. The design team is exploring curb-less environments, shaded sidewalks, and open piazza spaces that are intimately tied to the h istory, character and climate of Coral Gables to promote a more vibrant and eventful Downtow.
Shopping
Coral Gables is synonymous with good taste. The famed Miracle Mile and its surrounding downtown streets with their European-style outdoor cafes and many specialty stores, provide an enjoyable tropical shopping experience. Just a few minutes away, fashion and style come to life in the city at the Village of Merrick Park, a shopping and lifestyle center anchored by luxury retailers Neiman Marcus and Nordstrom's. The outdoor shopping venue also features such designer brands as Tiffany & Co., Hugo Boss, Jimmy Choo, Longchamp, Burberry, Diane Von Furstenberg, Carlo Pazolini and Gucci.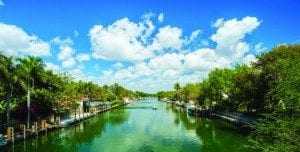 Cultural Amenities
Coral Gables has become one of the most vibrant centers for the arts in South Florida, with countless cultural offerings located both in the heart of the City or just minutes away.
Coral Gables offers four live theaters, the most of any city in South Florida. They are Actors' Playhouse at the Miracle Theater, GableStage at the historic Biltmore Hotel, Area Stage on US 1 and the Jerry Herman Ring Theatre at the University of Miami.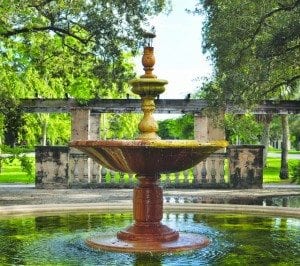 • The Cosford Cinema on the University of Miami campus and the Coral Gables Art Cinema on Aragon Avenue are top venues for foreign and independent films.
• Coral Gables Gallery Night, held every Friday of the month, features more than a dozen private art galleries showcasing works by European and Latin American art masters and outstanding contemporary artists. A free Gallery Night Trolley winds its way through the City, making stops at the exhibits and at the Coral Gables Museum plaza, where live music, art and wine come together.
There are three museums in the City — the Coral Gables Museum in the heart of Downtown, the Lowe Art Museum on the UM campus and Merrick House, the boyhood home of City founder George Merrick.
• Coral Gables is widely known for its vibrant and highquality music scene. Every week from January to April, the City presents the Jazz in the Gables lunchtime concert series. Coral Gables also is a premiere stage for numerous chamber groups, symphonic orchestras and an annual Baroque Music Festival. The University of Miami's renowned Frost School of Music is a popular venue for a wide array of musical offerings.
Coral Gables is home to Books & Books, one of the nation's top independent bookstores. The store has become a major cultural center and each year hosts more than 500 different readings and events. Former presidents and worldrenowned authors have presented at the popular venue.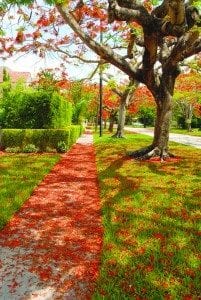 Coral Gables celebrates its strong sense of community with events that have become local traditions throughout the year. The annual Junior Orange Bowl Parade has been marching through Downtown Coral Gables for 66 years, the July 4th fireworks celebration draws more than 25,000 people to the grounds of the historic Biltmore Hotel and the annual Christmas tree lighting ceremony and theme park for children at City Hall are highlights of the holiday season. During the local growing season from January through March, Coral Gables holds its Farmers Market in front of City Hall. The popular European-style green market offers farm-fresh produce, baked goods, juices, honey, herbs, jams and jellies, gourmet specialty foods, and a variety of plants for the home or garden. Nationally-recognized as a garden city, Coral Gables offers two world-renowned gardens. Montgomery Tropical Botanic Garden is a global center for scientific research, boasting the largest palm tree and cycad collections in the world, while the 83-acre Fairchild Garden has become a resource of world significance. Its "Wings of the Tropics" conservatory has 3,000 butterflies on display every day. Coral Gables is strongly committed to arts and culture.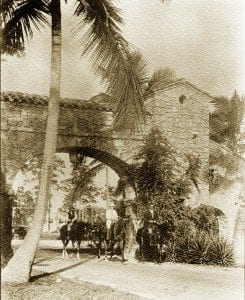 In addition to its many offerings, the City has a Cultural Grants Program to support non-profit organizations and an Art in Public Places Program that requires all commercial developments of more than $1 million to assign one percent of their budget for public artworks. The City also is home to two international cultural institutions, the Societa' Dante Alighieri and the Centro Cultural Brasil-USA.
Coral Gables is widely recognized as one of the best places to live. These are some of the awards the City has won:
• Top 5 Most Beautiful Small Cities in America(Rand Mc- Nally / USA Today)
• Most Walkable Suburbs in the Country (Wall Street Journal)
• Top 10 City to Live Well in America (Forbes)
• Tree City for the past 30 years (The Arbor Day Foundation)
• Best Places to Retire in America (NBC Today Show)
• Playful City USA (KaBOOM!)
• 100 Best Communities for Young People (America's Promise Alliance)
• Top 10 Romantic City in the U.S. (Livability.com)
• Top 10 Dreamiest Places to Live in the United States (HGTV's FrontDoor.com)
• Protector of the Climate Award (Audubon Society)
• Top 10 Cities for Books (Livability.com)
• Top 5 Most Livable Communities in the World (United Nations-backed LivCom International)
Quality of Life: Cultural Amenities Recreational Amenities
With its majestic tree canopy and shaded streets, Coral Gables invites communing with nature. There are 42 public parks and green spaces in the City Beautiful, providing perfect places to stroll, picnic, play or relax. Residents and visitors can tee off at two public golf courses – the Biltmore Golf Course, a Donald Ross, 18-hole, par-71 course, and the Granada, the oldest operating 9-hole course in Florida. There are also two private courses, the Riviera Country Club and the Deering Bay Country Club. Coral Gables also offers access to 46 tennis courts and 47 miles of waterways that invite boating, paddleboarding and kiteboarding. Other activities include hiking and cycling along one of the City's many bike paths.
Residents can also swim in the City's historic natural freshwater Venetian Pool, which was voted one of the world's coolest pools by "Travel and Leisure" magazine. For boat owners, there are several private marinas nearby that include Grove Harbour Marina, Snapper Creek Marina, Deering Bay Yacht Club and Cocoplum Yacht Club.
Municipal Services
The Coral Gables Police and Fire Departments are both fully-accredited. In fact, in 2014, the City's Police Department earned its seventh reaccreditation from the Commission on Accreditation for Law Enforcement Agencies (CALEA), the international gold standard in public safety.
The City's Fire Department is one of only a handful of fire departments nationally to hold the distinction of Class 1 status for providing exemplary fire protection to the community. In addition, in 1993, Coral Gables became the first municipality ever to receive the National Emergency Management Award.
Coral Gables provides services tailored for those of all ages—from the very young, to the elderly. Its Youth Center offers recreational programming for children, adults and seniors, while the Coral Gables Museum offers education programs and camps for families and children.
Seniors, who make up a quarter of the City's population, can choose for a wide range of services. The City's Senior Services program offers language classes, investment discussions and an annual Health Fair, and its Pilates, aerobics and Tai Chi sessions all quickly fill up. To meet the demand, the City is building a new Senior Center that will serve this growing population.
Historical Landmarks
Coral Gables is committed to maintaining its rich heritage. More than 1,450 properties have been designated local landmarks, including typical Mediterranean style cottages. Nine properties have been listed on the National Register of Historic Places. They include:
• The Biltmore Hotel: The City's tallest building – with its magnificent spire that pays homage to Spain's
Giralda tower – has hosted royalty, presidents and movie stars since it opened in 1926.
• City Hall: The richly ornamented Mediterranean Revival- style building is made largely of coral rock and features original artwork that is an integral part of its structure—from the relief of the City seal the graces the front façade to the paintings on its domed ceiling.
Venetian Pool: Created in 1923 from a coral rock quarry, the natural freshwater pool is the only pool to be listed on the National Register of Historic Places. Other properties listed on the National Register are the Coral Gables Congregational Church, Coral Gables Elementary School, the Merrick House, the Coral Gables Museum, the Coral Gables Woman's Club, the Coco Plum Woman's Club, the Douglas
Entrance, the MacFarlane Homestead Historic District and Coral Gables Wayside Park.
These are exciting times for Coral Gables, as the City marks its 90th anniversary. Walk, bike or drive around the City Beautiful and you will notice the kind of vibrant, international community often found only in large cities. We hope you will visit us soon and think you will agree. Welcome to Coral Gables.
Coral Gables Economy
The Coral Gables economy is comprised of local and international businesses, but unlike other parts of Florida, it is not influenced by seasonal shifts. Because of its strong municipal services, high quality of life, convenient access, responsible growth and a diversified economy, Coral Gables continues to be a highly desirable location for domestic and international investment.
The City of 50,000 residents is also centrally located with easy access to key destinations. Coral Gables is just a short drive from Miami International Airport and PortMiami, two of the largest passenger and cargo hubs in the nation, 35 miles from Ft. Lauderdale-Hollywood International Airport, and just minutes from downtown Miami. A vintage-style trolley connects many of the commercial districts to Metrorail, the region's elevated rapid transit system.
Coral Gables is considered one of the premium office markets in South Florida with approximately 11 million square feet of prime office space. The City's total tax-assessed value is $12.9 billion. It is also an ideal place for corporate officers and employees to live and work. The City offers multiple venues to entertain clients, world-class restaurants, firstclass hotels, rich cultural offerings and a broad range of retail establishments.
Corporate Capital of the Americas
In 1925, Coral Gables founder George Merrick predicted the City would "serve as a gateway to Latin America."
Today, Coral Gables is home to more than 150 multinational corporations in such varied fields as telecommunications and technology, international finance, health care, biomedical research, import and export, transportation, spirits, travel and tourism, news information services and real estate. Regional offices are heavy purchasers of professional services, particularly in the areas of international law, accounting and global marketing, making Coral Gables an ideal location for such businesses. Many of the multinational companies have located in Coral Gables to serve South and Central America, and several of the offices have expanded their reach to include other parts of the globe due to the ease of international travel, reliable telecommunications and a multilingual and multicultural professional workforce. In fact, more than 100 countries are served from corporate addresses in the City Beautiful.
Intellectual and Multilingual Workforce
Employers in Coral Gables have the opportunity to draw from a highly educated and talented multilingual workforce. More than half of Coral Gables residents are fluent in another language. Approximately 60 percent of Coral Gables' residents 25 and older have a bachelor's degree, and approximately 30 percent also have a graduate or professional degree, about three times the countywide rate.
In addition, Coral Gables is home to many excellent academic institutions. The world-renowned University of Miami, one of the country's leading research universities, has its main campus located on 239 acres in the City. UM's student population of 16,774 includes students from more than 120 nations. The University offers 115 undergraduate and 167 masters and doctoral degree programs, as well as 59 research/scholarship programs. It was among the 50 top universities in the U.S. News & World Report rankings of "America's Best Colleges."
UM is accelerating its progress in all key areas, and in particular in the biomedical and life sciences. In 2011, UM launched the first phase of its Life Science & Technology Park with the grand opening of the 252,000-square-foot R+D Building One. The facility is near the University's Miller School of Medicine campus, which is home to the acclaimed Interdisciplinary Stem Cell Institute and the John P. Hussman Institute for Human Genomics.
Also located in the City is Northwestern University's prestigious Kellogg School of Management Executive MBA program. Kellogg is ranked #3 in the U.S. News & World Report's current list of "America's Best Business Schools."
Schools
Coral Gables schools are considered by many to be the best in Miami Dade County. Seven of the nine public schools that serve the City have been given A ratings by the Florida Department of Education, and the other two received B ratings. Coral Gables Preparatory Academy, George Washington Carver Middle School and Sunset Elementary are designated as Blue Ribbon Schools of Excellence by the US Department of Education, the highest honor awarded to an American school. Several Coral Gables schools are known for their foreign language curricula. G.W. Carver Middle also holds the additional distinction of being recognized by the French, German, Spanish and Italian governments. Graduates of the prestigious International Baccalaureate programs at Coral Gables Senior High receive diplomas recognized by colleges and universities throughout the United States and the world.
The International Studies Preparatory Academy, a high school focusing on international studies and foreign languages, is the result of a pioneering collaboration between the City, Miami-Dade County Public Schools and the Spanish, Italian and French education ministries. Coral Gables also boasts seven highly rated private schools that include Gulliver Academy and nearby Gulliver Preparatory School, as well as half a dozen day schools.
Coral Gables is widely recognized as one of the best places to live. These are some of the awards the City has won:
• Top 5 Most Beautiful Small Cities in America (Rand Mc- Nally / USA Today)
• Most Walkable Suburbs in the Country (Wall Street Journal)
• Top 10 City to Live Well in America (Forbes)
• Tree City for the past 30 years (The Arbor Day Foundation)
• Best Places to Retire in America (NBC Today Show)
• Playful City USA (KaBOOM!)
• 100 Best Communities for Young People (America's Promise Alliance)
• Top 10 Romantic City in the U.S. (Livability.com)
• Top 10 Dreamiest Places to Live in the United States (HGTV's FrontDoor.com)
• Protector of the Climate Award (Audubon Society)
• Top 10 Cities for Books (Livability.com)
• Top 5 Most Livable Communities in the World (United Nations-backed LivCom International)