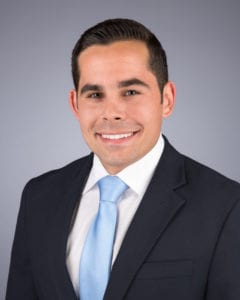 Coral Gables Hospital welcomes Madison Workman to the position of chief operating officer.  In his new role, he will be responsible for the implementation of all operational goals and assist in strategic initiatives. 
"Madison is a great addition to our leadership team at Coral Gables Hospital because of his commitment to service excellence and his continued perseverance to deliver expert care to our community," said CEO Cristina Jimenez. "We are pleased to welcome Madison into his new role.  He will serve as an excellent representative for our medical staff and employees."
Workman began his career at sister hospital, North Shore Medical Center. In his previous role as assistant administrator, Workman assisted with the strategic planning and implementation of the operational goals of the 337-bed hospital.  He was also involved in the operations and financial management of laboratory services and radiology. Workman also participated in executive committees such as Board of Governors, clinical care committee, credentials committee, medical executive committee and medical operations committee.  He is also involved in the Tenet Healthcare's Coastal Division regional committees such as laboratory, surgery and he is the chair of the linen management committee.
Workman holds both a Master's degree in Health Administration and a Bachelor of Health Science from the University of Florida. He is a member of the American College of Healthcare Executives.
For more information on Coral Gables Hospital, visit www.coralgableshospital.com.
                                                                     ###
                                                                     
About Coral Gables Hospital
Coral Gables Hospital is a 245-bed acute care hospital located at 3100 Douglas Road in the heart of historic Coral Gables. For over 90 years, this community-based hospital has served South Dade County, Latin America and the Caribbean. Coral Gables Hospital offers a broad range of services, from primary care to robotic surgery, with the assistance of the da Vinci® Si™ Surgical System and specialty programs including: orthopedics, urology, comprehensive diagnostics services, emergency, outpatient rehabilitation, including a Vestibular Clinic, and more.
Coral Gables Hospital earned The Joint Commission's Gold Seal of Approval® for its Total Hip Replacement and Total Knee Replacement in 2017. Additionally, Coral Gables Hospital has earned an "A" Hospital Safety Score from the Leapfrog Group eight times in a row.
Coral Gables Hospital is fully accredited by the Joint Commission on the Accreditation of Healthcare Organizations, the nation's oldest and largest hospital accreditation agency.  To learn more about Coral Gables Hospital, visit www.coralgableshospital.com.