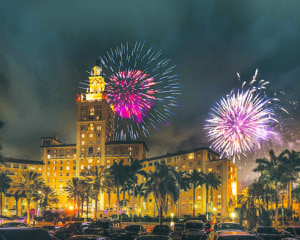 One of Coral Gables' most anticipated events will take place on Monday, July 4, when a grand fireworks display will illuminate the skies above of the historic Biltmore Hotel. More than 32,000 people gathered last year to celebrate our nation's independence.
"Our annual Fourth of July celebration on the beautiful green golf courses of the Biltmore Hotel has become a hallmark event for families, couples, and groups of friends to celebrate our nation's birth; everybody loves it," said Gables Mayor Jim Cason.
While the City of Coral Gables and the Biltmore Hotel are the major sponsors of this much-loved celebration, they are joined by Coral Gables Hospital, University of Miami, and several other corporate citizens to present this hometown event.
This year's event will include patriotic anthems provided by the Greater Miami Symphonic Band. CBS4 news anchor Rick Folbaum will be the emcee. An awe-inspiring fireworks show will begin at 9 p.m.
IMPORTANT INFORMATION:
When: Monday, July 4, Golf course greens open to the public at 5 p.m., concert starts at 7 p.m., and fireworks show begins at 9 p.m.
Where: The Biltmore Hotel, 1200 Anastasia Ave.
Event Parking: The city will offer convenient, free parking and shuttle service throughout the evening to and from the Biltmore Hotel. Shuttle service begins at 5 p.m. from the following locations. (Please note: The last shuttle will depart for the fireworks at 8:15 p.m.): BankUnited Center Surface Lot, 1245 Dauer Drive; Coral Gables War Memorial Youth Center Parking Lot, 405 University Drive. Coral Gables Parking Garage 4 – City Hall Shuttle Stop, 385 Andalusia Ave.
Bike Valet: Ride your bike to the William H. Kerdyk Biltmore Tennis Center next to the Biltmore. Bike Valet Parking service is provided by Green Mobility Network. Hours of operation are 5 p.m. to 11 p.m.
For more information about the event, visit <www.CoralGables.com/July4>.