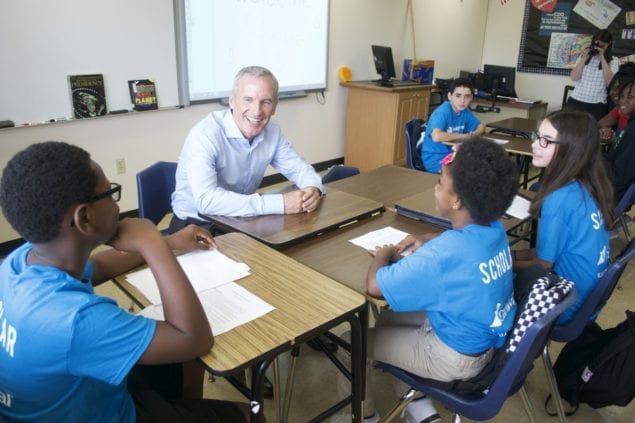 Gulliver Schools, in partnership with Breakthrough Miami, began its summer session on June 21 with 60 motivated students from a variety of socioeconomic backgrounds.
For six weeks, Gulliver is providing classrooms and educational facilities at its Preparatory Campus to help underserved public school students achieve their fullest potential and prepare to succeed in college.
"Our goal is simple: We want to partner in the effort to close the achievement gap between students from affluent families and those from under-resourced backgrounds," said Frank Steel, Gulliver's head of schools. "We are confident that our work with Breakthrough Miami will be transformational for each of the students involved, and an experience on which they can build for the future."
The day's activities began with an all-school meeting with student-teacher introductions, word-of-the-day and math-problem-of-the-day group discussions, as well as an icebreaker activity. Then, students transitioned into their academic and elective courses.
Each year, many low-income students must overcome significant challenges to graduate from high school on time or pursue a college education. Breakthrough Miami, which currently serves more than 1,100 Miami-Dade County students in grades 5-12, provides an academic enrichment program that uses a peer-mentoring model to ensure that these students have access to excellent educational opportunities.
During the past five years, more than 80 percent of Breakthrough Miami graduates have entered four-year colleges, compared with 22 percent of low-income students nationwide.