Montica Jewelry, a luxury retailer specializing in diamond and fine jewelry since 1982, has moved from Miracle Mile to a new boutique on S. Dixie Highway in Coral Gables.
The new atelier showcases some of the world's most cutting edge designers such as Tacori, Hearts on Fire, Michele Watches, Benchmark, and Doves by Doran Paloma in a modern showroom. The boutique also features a diamond lab.
"The new Montica concept is perfect for today's diamond and fine jewelry customer who values privacy, exclusivity, and convenience," said owner John O'Rourke. "We provide a relaxed environment that's different from a mall location so that one can try on and model jewelry then enjoy a glass of champagne or espresso while shopping."
Since its start 34 years ago, Montica has been a popular destination for wedding and engagement rings.
"We've provided more than 8,000 couples with beautiful diamonds for a lifetime of joy," O'Rourke recalled. "In fact some children and grandchildren of our earliest clients are now customers selecting their wedding sets here."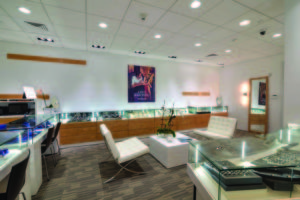 "Less than 5 percent of all jewelers are qualified to sell the Hearts on Fire collection which prides itself on providing the world's most perfectly cut diamonds," O'Rourke noted. "Tacori is an American brand with classic appeal and a contemporary sensibility that is popular with Millennials and Gen-Xers looking for a unique statement for their lifetime commitment."
Montica offers a "diamond builder" on its website allowing a groom to create different settings and get a price based on carat weight and style.
"Of course a diamond should always be seen and touched before being purchased to ensure it is the size and style you want for your loved one," O'Rourke cautioned. "We offer one year interest-free financing and a one year buy-back guarantee and lifetime upgrade to back up your Montica purchase."
The store is open Tuesday through Saturday from 10 am to 6 p.m. Montica Jewelry is located at 500 S. Dixie Hwy., Suite 203, Coral Gables, FL 33146. Their phone is 305-446-2957. To learn more about Montica, visit Montica.com.