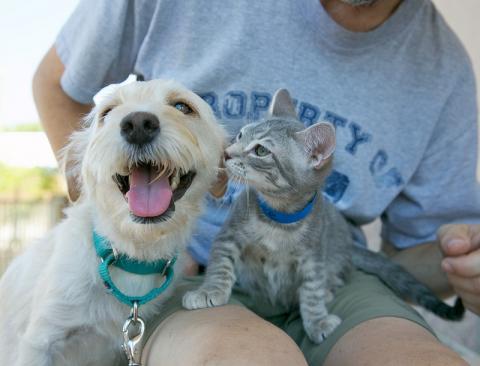 Starting Friday night October 21st through Saturday night October 22nd, hundreds of adoptable dogs and cats will be looking for their perfect match!
Forget Match.com, EHarmony or Tinder; the best matches in town will be made for 24 non-stop hours between two-legged and four-legged friends.  For the fourth year, the very popular 24-hour Mega-Match-a-Thon Pet Adoption event will be returning to Miami at Tropical Park. Hundreds of homeless dogs and cats of all breeds, sizes and ages will be looking for their forever families at the one-and-only petstravaganza. Starting on Friday night, October 21st, at 11:59 pm and continuing non-stop until 11:59pm on Saturday October 22nd, this event promises to be fun and fabulous for all!
The Humane Society of Greater Miami, The Cat Network and local rescue groups will join host Miami-Dade Animal Services with their adoptable dogs, cats, kittens and puppies for a day filled with happy "tails" endings! "This is one of our favorite events," says Laurie Hoffman, Executive Director of the Humane Society of Greater Miami. "It's such a feel-good 24 hours with so many homeless animals being connected with families they can finally call their own. And remember, the more we adopt, the more we save!" Adoption fees to take home your perfect pet match begin as low as $30!
The Mega Match-a-Thon is a day filled with fun for the entire family. There will be music and live entertainment from local performers that you will not want to miss. Want a bite to eat? We promise you won't go away hungry as there will be an array of food trucks to choose from, offering a delicious variety of foods. Fun and exciting entertainment and great adoptions for homeless pets in need; it does not get much better than that!
To get involved or for more information, please visit www.humanesocietymiami.org or call 305-749-1825.
Tropical Park is located at 7900 Bird Road in South Miami