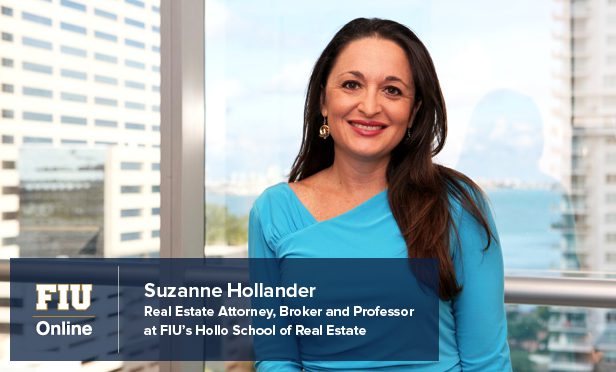 Succeeding in today's competitive commercial real estate world, requires solid skills and a personal introduction to make strong connections. Florida International University's (FIU) online Master of Science in International Real Estate (MSIRE) program provides students with a unique focus on commercial real estate financing, unprecedented access and introductions to the real estate industry's most notable dealmakers, and the mentoring support of faculty member Suzanne Hollander, who serves as the liaison to the real estate community on behalf of FIU's Jerome Bain Real Estate Institute, highly regarded for its real estate research and outreach.
Hollander, who teaches real estate law courses in FIU's Hollo School of Real Estate, is an attorney and broker who represents national and international owners and buyers with commercial property in Florida and Maryland, vice chair of the City of Miami Beach's Affordable Housing Board, a committee chair of Commercial Real Estate Women (CREW) Miami and frequently quoted as an expert on real estate, property rights and housing issues by the national media, including the Wall Street Journal–MarketWatch, YahooFinance! and The Miami Herald.
"Our online students are the type of professional you want to work on your real estate deals. They are committed to being at the top of their game," said Hollander. "FIU's Online MSIRE program polishes their skills, and provides the tools and analytical framework to apply to local, national, and international real estate transactions." Graduates emerge from the program ARGUS-certified, and earn credit towards their Certified Commercial Investment Member (CCIM) designation. FIU's Online MSIRE is further distinguished as the first online graduate program in real estate in the nation from an AACSB-accredited college of business. 
While FIU Online students are from all over the country, the program's downtown Miami location is an incredible asset. "The sheer density of the Miami real estate market, the volume of deals and intensity of large scale development projects in South Florida gives our students first-hand insight into complex commercial transactions, zoning, leases and contracts that serve as valuable case studies." said Hollander. "We're bringing leading developers, brokers and analysts into the classroom, and our online program makes that classroom available 24-7."
With one foot in the academic world and one in the real estate industry, Hollander is ideally suited to connect and mentor FIU students, including alumna Wendy Hernandez. Hernandez credits Hollander for making the connection that landed her the position of Capital Markets Analyst at Colliers International. "Suzanne has been such a great mentor throughout the years," Hernandez said. "She encourages students to say 'yes!' to new opportunities and has helped with job placement."
Hollander helps make those connections, and works with students to fine-tune their resumes and help boost their marketability.  Hollander's mentorship includes tapping into the MSIRE program's vast network of alumni—the program now in its 10th year, with alumni all over the world in every facet of commercial real estate. "Real estate is not a solitary profession. It's important for our students to build a network of smart, sophisticated people to do deals with," said Hollander. "We foster connections in the community with our alumni and friends that are meaningful and lead to mentorship and jobs."
Her advice for anyone considering pursing a master's degree in real estate?  "My favorite four-letter word is 'Read.' You'll be reading a lot in this field, and our graduate program helps prepare you with the skills you need to read critically and analytically to understand important deal terms," said Hollander. "The program is worth it—only 10 to 12 months long, depending on when you start, and it opens up a world of new opportunities."
To learn more about FIU's Online Master of Real Estate, click here