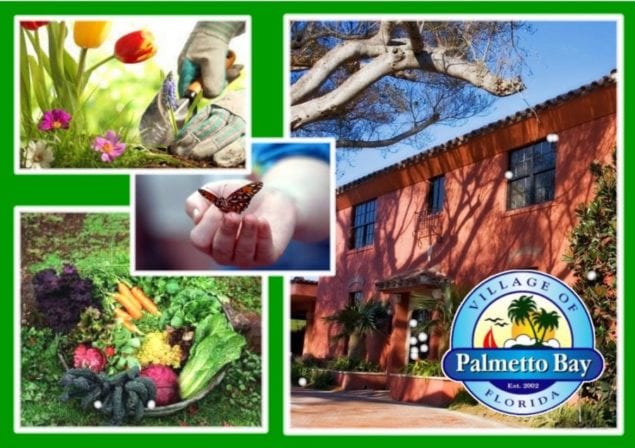 Palmetto Bay residents who are into gardening, or who would like to be, may be interested in programming presented through the Parks and Recreation Department this spring and summer.
"Springtime is here and the Village of Palmetto Bay has partnered with the University of Florida/IFAS Extension, along with Master Gardener Terri Stephen, to offer a series of Responsible Gardening Workshops at Thalatta Estate Park," said Jackie Calzadilla, village public information officer. "All workshops are free and a minimum of eight participants is required for each workshop."
The lecture series runs from May through August. Thalatta Estate Park is located at 17301 Old Cutler Rd. Registration is required and is available online at www.palmettobay-fl.gov.
First in the series is a lecture called "Gardening in Zone 10 – It's Different Here," which explores the sub-tropical area and how it affects gardening. It takes place on Wednesday, May 10, from 7 to 8:30 p.m.
Second is a lecture on "Butterfly Gardening," which presents information on how to attract butterflies to your yard and provide what they need to sustain them. It is scheduled for Wednesday, June 28, from 7 to 8:30 p.m.
Third is one humorously called "Compost Happens," about how to make organic soil from kitchen and yard waste. It's billed as being easy and fun. That lecture will be on Saturday, July 15, from 9 to 10:30 a.m.
Fourth and last in the series is a lecture on "Vegetable Gardening," which deals with how to grow food in your own yard. There are many edible fruits and vegetables that thrive in South Florida if grown the right way. That one takes place on Saturday, Aug. 12, from 9 to 10:30 a.m.
There are limited spaces for all lectures so it is recommended that residents interested in attending them RSVP as early as possible. For information call 305-259-1234 or visit www.palmettobay-fl.gov.