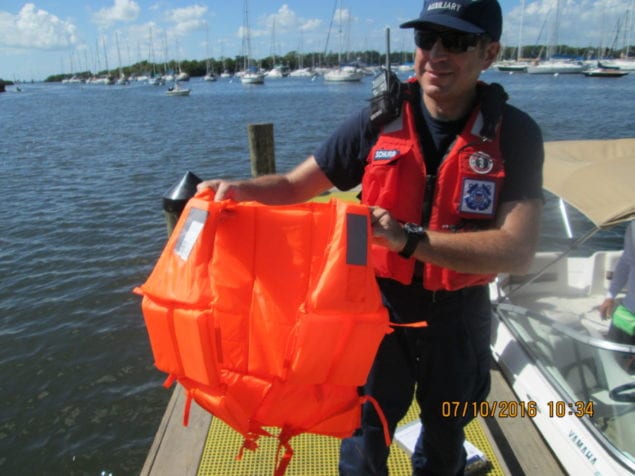 These life jackets, purchased by a family with children, were not marked "USCG Approved." They were very flimsy and thin, of indeterminate materials and poor manufacture. The boater was happy to claim he only paid $6 each and bought 10 of them. A bargain that could easily cost a life!
Life jackets save lives. National statistics from 2015 show that of the 4,158 recreational boating accidents counted by the Coast Guard, 76 percent of the fatalities where the cause of death was known were due to drowning. Of those drowning victims, 85 percent were not wearing a life jacket.
"It can be a matter of life or death", says Robert Schurr, who along with Mario Gutierrez, both Coast Guard Auxiliarists from Flotilla 67, Coral Gables, came upon non-USCG- approved life jackets while doing courtesy vessel safety checks at the Seminole Boat Ramp, Dinner Key Marina, Coconut Grove.
Life jackets should be properly sized for the person who will wear it. In addition, they should be of a type and make properly approved by the USCG, in good and serviceable condition and readily available in case of an emergency,
Mark Chiappone, who oversees all of Flotilla 67 vessel exams, explains that specially trained and qualified volunteers carry out courtesy recreational vessel safety checks monthly at boating ramps. They examine recreational vessels for compliance with Federal and state laws and recommend remedial actions if necessary. The law is very clear that vessels in U.S. waters must carry life jackets marked "USCG Approved."
Auxiliarists do not give tickets or fine the boater or otherwise enforce the law.
Auxiliarists are fellow boaters who volunteer their time on the water to help save lives and assist boaters in distress. They volunteer to teach boating safety and conduct vessel safety checks. In turn, they become better boaters as they are trained in Coast Guard operations and procedures.
Flotilla 67 is very active in helping boaters in Biscayne Bay and offshore as well as participating in search and rescue operations.
All boaters are welcome to visit Flotilla 67's annual open house Saturday, October 15, 2at Matheson Hammock Marina from 10 a.m. to 2 p.m. Further information, contact Tony Fernandez, 305 301-3298 or orr@flotilla67.org or www.flotilla67.org.