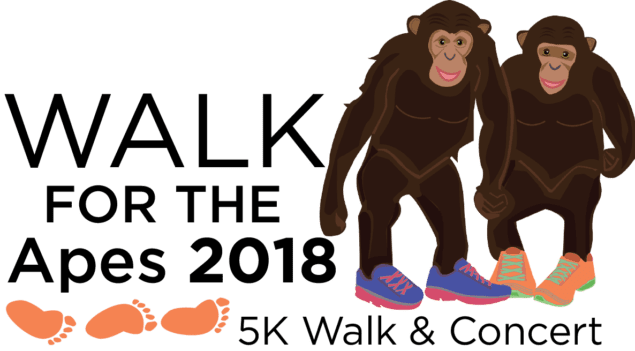 For the first time ever in Miami, the community is coming together to walk against the human negligence of great apes. Walkers will be able to take part in this historical animal advocacy movement on its first year of inception. They will not only be the voice against the abuse of chimpanzees and orangutans, but also will raise funds for the Center for Great Apes, a 501c nonprofit founded in Miami. The Center for Great Apes is a sanctuary that rescues and provides a dignified life for great apes. The Walk will take place on April 29, 2018 at Tropical Park, Miami. In addition to the 5k walk, the event will host a tribute concert to Michael Jackson inspired by his most beloved pet chimpanzee and current resident at the Center, Bubbles. The concert will feature Danny Dash Andrews, a world famous Michael Jackson impersonator.
Jane Goodall, a British primatologist and the world's expert on chimpanzees with her own documentary, is an Honorary Director for the Center for Great Apes. She affirms "… sanctuaries will be needed to provide the social and physical environments that these chimpanzees need and deserve." Jane adds "If we do not do something to help these creatures, we make a mockery of the whole concept of justice."
The resident apes at the Center for Great Apes all have moving stories. Among them, an orangutan named Kiki spent 20 years of her life in a small cage in a New Jersey basement. A chimpanzee named Ripley, former Hollywood star, saw his brother being shot at an unaccredited zoo as he escaped death himself. An orangutan named Popi, that was beaten before every Vegas show she performed in.
According to ChimpCARE there are still over 500 chimps held at biomedical research institutions that need placement in quality sanctuaries. To accept new apes, the Center for Great Apes would need at least $1.2 million a month. This is challenging because the Center for Great Apes does not receive any government funding and must rely on donations.
Adam Brand director of the Walk comments, "These apes that have been abused by humans, need an adequate home. It is our obligation to make things right and fundraising through the walk is an important step."
5K Walk and Michael Jackson Tribute Concert
Date: Sunday, April 29, 2018
Location: Tropical Park,
7900 SW 40th St, Miami, FL 33155
Time: 9:00 AM (Registration starts at 7AM)
Cost: $39 Adults,  $34 Students  (Concert only: $30)
For more info: www.walkfortheapes.org