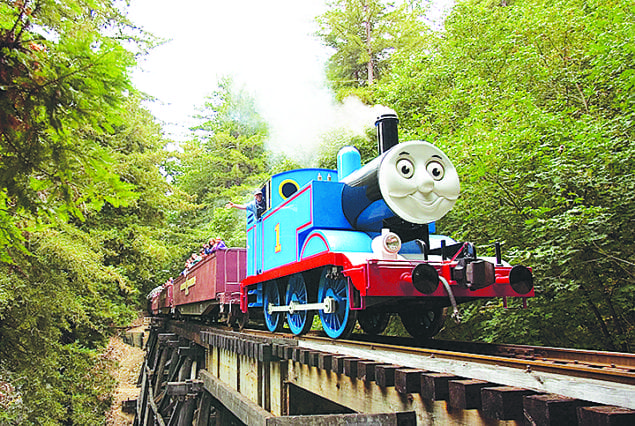 All aboard! Thomas the Tank Engine invites little engineers to join him for a day of friendship and family fun at "Day Out with Thomas: The Friendship Tour 2017" on Mar. 4 and 5, 11 and 12 at Miami's Gold Coast Railroad Museum.
Children everywhere can spend a day with their friend Thomas when the No. 1 Engine pulls into Miami. Day Out with Thomas: The Friendship Tour 2017 is presented by Mattel.
Day Out with Thomas is a fun-filled event that provides children of all ages the opportunity to climb aboard and take a ride with Thomas as well as participate in Thomas & Friends-themed activities. The tour, now in its 22nd year, will make 42 stops across the U.S. and Canada, and is expected to welcome nearly one million passengers in 2017. For two back-to- back weekends, little engineers and their families are invited to take a 25-minute ride on their favorite engine, meet Sir Topham Hatt, Controller of the Railway and enjoy a day of Thomas & Friends fun.
In celebration of this year's theme, Day Out With Thomas: The Friendship Tour 2017 will feature an array of friendship-inspired activities.
Attendees will be able to participate in events that encourage and celebrate friendship including photo opportunities, crafts, and a fun activity that invites kids to collect passport stamps throughout the day to receive a trio of Day Out With Thomas friendship bracelets.
The 2017 tour theme is in line with this year's Thomas & Friends global brand campaign, "Set Friendship in Motion," a campaign that ties together content, social integrations, and event activations across the entire Thomas & Friends franchise to highlight the importance of first friendships and the development of key friendship skills in toddlers.
Thomas the Tank Engine rides depart every 45 minutes, rain or shine. Departure times begin at 10:30 a.m. through 4:30 p.m. each day of the event. Tickets for Day Out with Thomas — $20 for ages 2 and older — are on sale now and can be purchased at www.ticketweb.com/dowt or by calling toll-free 1-866.468.7630. For more information and directions, contact Gold Coast Railroad Museum at 305-253-0063 or GCRM.org.
Thomas the Tank Engine is the star of Thomas & Friends the award-winning global brand franchise enjoyed by families in 133 territories and in 33 languages across multiple touch-points and formats, including: 400-plus original TV shows; 12 feature-length films; 14 websites in nine languages; apps; toys (ranked No. 1 property in the pre-school toys category in the UK and Australia and No. 2 in the U.S.); consumer products; publishing; live attractions and much more.
Thomas the Tank Engine is the star of Thomas & Friends which airs on PBS KIDS in the U.S. and Family Jr., Télémagino, Télé-Québec and TVO in Canada.
For general information about the tour or to find a Day Out with Thomas: The Friendship Tour 2017 event near you, visit www.dayoutwiththomas.com.
Gold Coast Railroad Museum (GCRM) is a non-profit organization dedicated to the promotion of railroad history and culture through preservation, restoration, and education. Founded in 1957, GCRM is home to over 40 historic railcars, including the "Ferdinand Magellan" Presidential Railcar, better known as U.S. Car No. 1. There also ls a model railroad room and a number of interactive displays. The museum is located at 12450 SW 152 St. next to Zoo Miami.