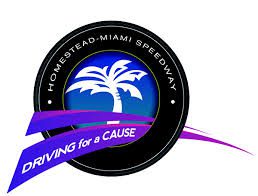 Homestead-Miami Speedway is currently accepting applications for financial gifts to be awarded to eligible 501(c) (3) charities as part of its 2017 Driving for a Cause grant program. The deadline for submissions is fast approaching, as all applications are due by July 28 at 5 p.m. ET and can be found at www.HomesteadMiamiSpeedway.com/DrivingForACause.
Driving for a Cause uses the popularity of motorsports to focus public attention and funding on South Florida youth and educational initiatives. The program is a donor-advised fund under the umbrella of The NASCAR Foundation, a 501(c) (3) organization that hosts numerous annual charity events.
All financial contributions are administered through Driving for a Cause. Please note that this application does not guarantee a donation. Requests will be reviewed and all applicants will be notified of the grant decisions by September 22.
Recipients will be honored during the pre-race ceremonies prior to the 2017 Monster Energy NASCAR Cup Series Ford EcoBoost 400 championship race at Homestead-Miami Speedway, which will be held on Sunday, November 19.
In addition to the charitable contributions from Driving for a Cause, Homestead-Miami Speedway donates more than $320,000 annually to dozens of South Florida organizations, including track rental opportunities throughout the year, an annual car wash, food drive, holiday toy drive and much more.
Established after the devastation of Hurricane Andrew in 1992, Homestead-Miami Speedway was developed by the City of Homestead as a state-of-the-art track that would forever change the economy of Homestead, Greater Miami and the entire South Florida region. The track generates an annual economic impact of more than $301 million to Miami-Dade County. A large portion of that can be attributed to hosting Ford Championship Weekend, which has determined champions in each of NASCAR's three national series for the past 15 years.
Driving for a Cause is dedicated to making a lasting impact on the community, supporting growth with volunteer and non-profit efforts. Previous recipients of the grants include:
2016
A Chance for Therapy
Camillus House
FIU Foundation Formula SAE
Prospera
Lauren's Kids
Miami Bridge Youth and Family Services
2015
AYUDA, Inc.
Baptist Health South Florida Foundation
Good Hope Equestrian Training Center
HandsOn Miami
Homestead-Florida City Community Soccer League
2014
The Russell Life Skills and Reading Foundation
Miami South BMX
Start off Smart Inc.
2013
The Boys and Girls Club of Broward County
Branches, formerly known as South Florida Urban Ministries
Farm Worker Association
Homestead South Dade Kiwanis Foundation
About "Driving for a Cause"
"Driving for a Cause," the charitable arm of Homestead-Miami Speedway, operates under the auspices of the NASCAR Foundation as a 501(c) 3 non-profit organization.  Homestead-Miami Speedway will continue each of its charitable activities, including its in-kind donations to local groups, support of Homestead Hospital's Speediatrics unit, and its program where organizations can work track events in exchange for a donation to their group or cause.
About Homestead-Miami Speedway
Homestead-Miami Speedway has been open since 1995 following an initiative to spur economic recovery in the aftermath of Hurricane Andrew. The Speedway is a 650-acre facility that features a 1.5-mile oval and 2.21-mile road course. The Speedway hosts on-track events nearly 300 days per year and generates more than $301 million annually for the region. In 2016, NASCAR celebrated its 15-year anniversary (2002-16) of crowning champions in all three of its national series at Homestead-Miami Speedway during Ford Championship Weekend. Champions crowned at Homestead-Miami Speedway in 2016 were Jimmie Johnson (NASCAR Sprint Cup Series), Daniel Suarez (NASCAR XFINITY Series) and Johnny Sauter (NASCAR Camping World Truck Series). 2017 Ford Championship Weekend will be held November 17-19.