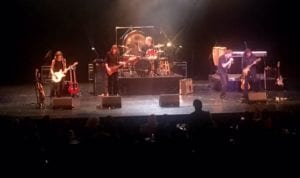 The Town partnered with the South Miami-Dade Cultural Arts Center (SMDCAC) to proudly offer its residents a special discounted ticket rate to the highly anticipated Led Zeppelin Tribute Band performance on Saturday, August 6, 2016. The performance was held on Saturday, August 6th at the SMDCAC's state-of-the-art facility located at 10950 SW 211 Street Cutler Bay, FL 33189. 
Residents enjoyed the classic Led Zeppelin music that included greatest hits like "Heartbreaker", "Whole Lotta Love", and "Ramble On".  The two (2) part, live performance was exhilarating and energetic with signature guitar riffs, and drum solos leaving the audience entranced in a state of adrenaline and amazement. The exciting concert experience transported Town residents back to 1972 and it was as if they were listening to the original band at the height of its career.
"What a great concert!  South Miami-Dade Cultural Arts Center in partnership with the Town, provided an outstanding entertainment opportunity for all, young and old alike.  The South Miami-Dade Cultural Arts Center was packed, the energy was high and everyone had a wonderful time. I look forward to more events like this one and thank the Director, Eric Fliss for bringing the show to Cutler Bay" stated Mayor Peggy Bell.
The show was quite the success as all tickets available to Town residents with the provided promotional code sold out. The Town received positive feedback and compliments for providing such an entertaining show, at a discounted rate.
"It was so nice to see so many residents from Cutler Bay at the South Miami-Dade Cultural Arts Center enjoying the Led Zeppelin Tribute Band. The band was just awesome and brought back so many memories. But more remarkable was the fact that many residents I spoke with shared that it was their first time at the Cultural Arts Center thanks to the partnership with the town. I am proud of our Town Manager and our team of staff, who are utilizing the resources in our Town and making them available to all. I am looking forward to the next show and hope to see more residents there," stated Council Member Sue Ellen Loyzelle
On Sunday, August 28, 2016 at 4:00 pm, the SMDCAC will host the Miami Lyric Opera-Tosca.  This great musical drama is set in 19th Century Rome and includes some of Puccini's best-known lyrical arias. For more information regarding this exciting upcoming show, please visit SMDCAD.org or contact Janelle Marzouka at jmarzouka@cutlerbay-fl.gov.
For additional information regarding upcoming Special Events please visit the Town's website at www.cutlerbay-fl.gov or contact the Parks & Recreation Department at (305) 234-4262.