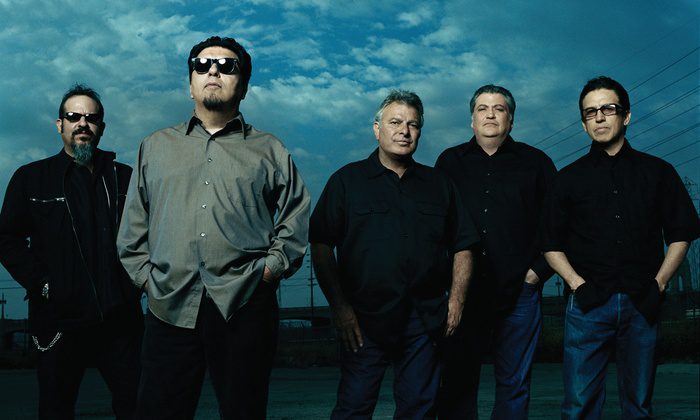 The South Miami-Dade Cultural Arts Center (SMDCAC), 10950 SW 211 St. in Cutler Bay, presents Fiesta Mexico Americana, a celebration of Mexican-American Heritage featuring Los Lobos and Ballet Folklorico Mexicano de Carlos Moreno, on Sunday, Mar. 20, at 5 p.m. There also will be a free pre-show, Fiesta En La Plaza, featuring traditional music, dance, crafts and food from 1 to 4 p.m. hosted by the Mexican American Council (MAC).
Tickets to the Los Lobos show are $25-$47.50 and can be purchased at www.smdcac.org or by calling 786-573-5300.
Los Lobos, the Grammy-winning East L.A. legends and 2016 Rock and Roll Hall of Fame nominees comprised of David Hidalgo, Louie Perez, Cesar Rosas, Conrad Lozano and Steve Berlin, are going back to their roots with a series of special performances with the iconic dance troupe Ballet Folklorico Mexicano de Carlos Moreno on the Fiesta Mexico Americana Tour.
Conceived by Eric Amada @ AMA and artistic director/choreographer Carlos Moreno of the Ballet Folklorico Mexicano, Los Lobos will integrate live performances of both traditional Mexican folk songs and selections from their repertoire, "La Pistola y El Corazon" in particular, with the vibrant performers of the BFM. They'll seamlessly share the stage, presenting popular traditional folk pieces from the regions of Guerrero, Veracruz, Tamaulipas and Chihuahua.
Each ensemble also will individually perform their own artistic creations which have evolved from their Mexican-American experience. Both groups will demonstrate their dedication and commitment to exploring and honoring Mexican Folklore.
Los Lobos members still are: Louie Perez — drums, guitars, percussion, vocals; Steve Berlin — saxophone, percussion, flute, midsax, harmonica, melodica; Cesar Rosas — vocals, guitar, mandolin; Conrad Lozano — bass, guitarron, vocals; David Hidalgo — vocals, guitar, accordion, percussion, bass, keyboards, melodica, drums, violin, banjo, and Enrique "Bugs" Gonzalez — drums/percussion.
More than three decades have passed since Los Lobos released their debut album, Just Another Band from East L.A. Since then they've repeatedly disproven that title — Los Lobos isn't "just another" anything, but rather a band that has consistently evolved artistically while never losing sight of their humble roots.
Los Lobos already were East L.A. neighborhood legends, Sunset Strip regulars and a Grammy Award-winning band (Best Mexican-American/Tejano Music Performance) by the time they recorded their major label debut, How Will The Wolf Survive? in 1984.
Founded in 1967 by Carlos Moreno Samaniego, the Ballet Folklorico Mexicano has achieved recognition both in the United States and in Mexico. In 1980, the Mexican consulate in San Francisco named the company the official ambassador for ongoing cultural activities with Mexico. It has held that distinction for over 20 years during which time it regularly conducts tours in Mexican cities such as Guadalajara, Oaxaca, Aguascalientes, and Durango.
Drawing on the artistic variety of Mexico's different regions, the Ballet Folklorico Mexicano has a dance repertory of 120 pieces. Many of these are presented in their traditional form while others have been re-staged to include artistic elements from more contemporary choreography. In this way, the indigenous rhythms of Tarascan Indian dances from central Mexico stand in sharp contrast to the Spanish military, and courtship dances from that region.
Similarly the African influences that characterize dances from the Gulf of Mexico are juxtaposed by Mexican polkas that mark the influence of eastern European from the north.
Founded in 1981, under the name Mexican American Arts & Cultural Council, the Mexican American Council is a cultural and educational organization composed of former farmworkers and community leaders from all backgrounds. They have dedicated our efforts to bettering the life of farmworker children through education, scholarship awards, cultural awareness events, and community involvement.
More information about the South Miami-Dade Cultural Arts Center and its programs can be found at www.smdcac.org.