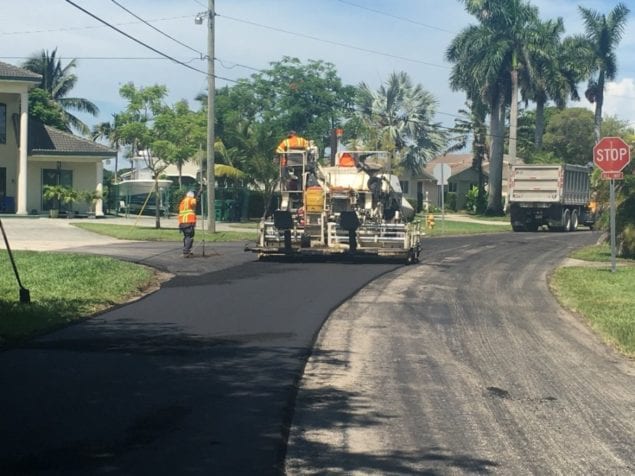 Cutler Bay's Public Works Department began a neighborhood roadway resurfacing project on Aug. 8 to repair roads that were in poor condition. Work is scheduled to be completed by the end of the month.
Portions of the following neighborhoods are affected: Cutler Ridge Pines, Mark Manor Pines, and Whispering Pines Estates. Since some of the town's roadways had not been repaved in several years and normal wear and tear had resulted in "pavement distress" and potholes.
The roadways within this Whispering Pines neighborhood were identified in the Roadway Assessment Report as being in "poor" condition and the town's Public Works Department selected this area to be part of the town's People's Transportation Plan (PTP) Phase IV Roadway Resurfacing Project.
According to town manager Rafael G. Casals the project will include the milling of existing asphalt, placement of new asphalt concrete surface, adjustments to the valve boxes and manholes, installation of new raised pavement markers and placement of thermoplastic stop bars with double yellow striping. The project also will include the addition of 54 new American with Disabilities Act (ADA) compliant ramps as well as 4,930 linear feet of new sidewalks "to further enhance the access and walkability throughout the neighborhood."
Mayor Peggy Bell said that she is pleased with the project and its planning.
"I'm very proud of our commitment to further improve our local roadways and sidewalks," Mayor Bell said. "This roadway resurfacing project totals approximately $1.1 million that is completely funded by the town's portion of the People's Transportation Plan municipal allocation. Improving our residents' quality of life and walkability continues to be our council's major priority."
Officials want to assure residents that access to local roads will be maintained during the roadway resurfacing project, although residents may be affected by temporary road closures as the resurfacing project progresses to ensure it's finished in a timely manner.
For information regarding the roadway resurfacing project within the Whispering Pines neighborhood contact Public Works Director Alfredo Quintero at 305-234-4262 or visit the town's official website at www.cutlerbay-fl.gov.