When it comes to enjoying the delicious benefits of fruits and vegetables, a great way to go is to eat what's in season. When you go seasonal, fresh fruits and veggies are that much more flavorful and will pack a more potent nutritional punch. And if that wasn't enough to convince you to go fresh this spring, the abundance of seasonal produce translates to better prices in the market.
We introduce to you this late spring/early summer's superstars: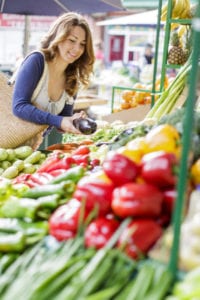 Artichoke
Artichoke is one of the oldest known medicinal plants and was first grown in Ethiopia, making its way to Europe through Egypt. Artichoke is a variety of the thistle plant and is most famous for helping the body eliminate toxins, the process also known as detox. Artichokes are a great source of vitamins, minerals, and phytonutrients. I have to confess that the very first time I was presented with a full artichoke, I went straight to Google to research how to go about it. So I'll teach you how to eat it. First, it's totally acceptable to use your hands to eat artichoke. In fact, you must! To eat, pull out the outer petals, dip in a sauce, and what you'll eat is only the soft pulpy portion of the leaf. To get this, simply pull the leaves through your teeth and discard the rest of the leaf. Pretty simple, right?
Broccoli
There are so many creative and delicious ways to prepare broccoli that it's hard to imagine someone not loving this veggie. It adds great flavor to soups, salads, and other savory dishes, but broccoli also happens to be a superstar when it comes to nutrients. It's a great source of vitamins K and C, chromium, and folate, and it also happens to provide great support for your body's natural ability to detox. Broccoli is a terrific source of fiber, which is important for our digestive health.
Pineapple
Although we often think of pineapples coming from Hawaii, this fruit is actually native to South America. What makes pineapple so amazing is not only its sweet and refreshing flavor but its ability to aid in digestion. And that's just one of the many benefits! It's also known for providing great anti-inflammatory and antioxidant support as well as important nutrients for eye health.
Rhubarb
Rhubarb's green and red stalks with green leaves make it stand out among other fruits and veggies. The first time I heard of rhubarb was in a cookbook by Chef Jamie Oliver, who was using it as the star ingredient in a delectable-looking pie. At the time, I was living in Brazil and I only remember the frustration of not being able to find rhubarb in my local store to replicate the recipe. Talking about nutrition, rhubarb is packed with vitamins, minerals, phytonutrients, and fiber. Whether you want to enjoy these in a delicious dessert like pie or make your very own rhubarb jam to enjoy for breakfast on a slice of toast, be adventurous and give it a try this season.
Strawberries
This delicious fruit is rich in antioxidants and other amazing vitamins and minerals like vitamin C and manganese, as well as fiber. What gives strawberries their beautiful bright red color also happens to provide amazing goodness for our bodies. You can enjoy strawberries in salads, baked goods, desserts, or even fresh! It is important to remember, however, that strawberries are at the top of the Dirty Dozen list. This list, created by the Environmental Work Group, singles out the fruits and veggies that have the highest load of pesticides. Because of this, stick to organic strawberries when possible.
Mango
South Florida's mango orchards are in full bloom, and that signals only one thing: mangoes are coming! Mango is refreshing, versatile and good for you in many ways. One cup of diced mango provides 2.6 grams of fiber, which is essential for proper digestion and a healthy heart. Mango is also rich in Vitamin A, which promotes eye and bone health. Other benefits of mango are folic acid, Vitamin C, copper, selenium, manganese and zinc. So chop it and add to your fresh salsa, freeze it and blend it in smoothies, or slice it and serve it with Greek yogurt, mango goes well in every meal!
From this season's spotlight on fruits and veggies, which are your favorites and how do you prepare them? Visit us on Facebook (https://www.facebook.com/pureformulas/?fref=ts) and let us know!
Raisa Cavalcante is a Nutrition Expert at PureFormulas.com