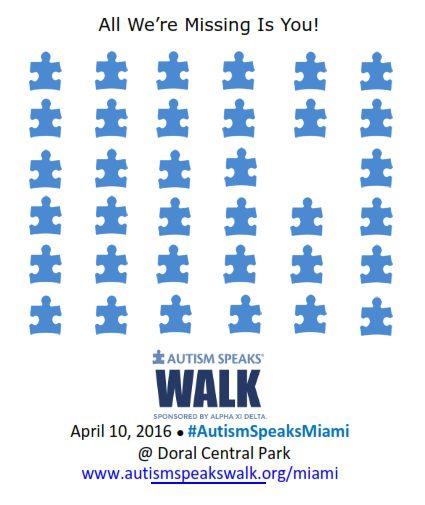 SUNDAY, APRIL 10 AT DORAL CENTRAL PARK
The South Florida chapter of Autism Speaks, the world's leading autism science and advocacy organization, will hold its 2016 Miami Autism Speaks Walk event on Sunday, April 10 at Doral Central Park. Proceeds from Miami's 16th annual walk will support Autism Speaks' mission: To fund scientific research and family and adult services; and raise awareness, and advocate for the needs of people with autism and their families in Miami-Dade County and beyond.
Autism spectrum disorder (ASD) is a general term used for a group of complex disorders of brain development. These disorders are characterized, in varying degrees, by difficulties in social interaction, verbal and nonverbal communication and repetitive behaviors. The U.S. Centers for Disease Control and Prevention (CDC) currently estimates that 1 in 68 American children is affected by ASD, making it one of the fastest-growing developmental disorders.
Autism Speaks Walk is Autism Speaks' signature fundraising and awareness event, taking place in nearly 60 communities across the United States, as well as in Canada. It is powered by volunteers, people with autism, families with loved ones on the spectrum, and local businesses and companies. This successful grassroots fundraising effort raises awareness of the autism community's needs and generates vital funds for research, advocacy initiatives, and family and adult services.
The Miami Event will include a two-mile walk with opening ceremonies emceed by Maria Fernanda Lopez of Univision 23 and Nathalie Rodriguez of My 93.9. This year's Walk Champion, City of Doral Councilwoman Sandra Ruiz, along with Mayor Luigi Boria and the City Council, will welcome supporters on stage, followed by presentations by elected officials and performances by up and coming artists. Other highlights of the day include meet & greets with Miami's sports teams' mascots and cheerleaders, and the largest autism community resource fair, providing families with "one-stop shopping" for educational options, therapists, recreational programs, child-friendly activities, and other vital services. Families can enjoy great food with plenty of fun activities for children of all ages.
In recent years, Autism Speaks has made a significant impact in the Miami area. Through its Family Services Chapter Program, Autism Speaks has provided funding to innovative local service providers such as Miami is Kind, Miami Children's Museum, and Karen Peterson & Dancers.
"Miami's Autism Speaks Walk is helping fund vital services and innovative ideas that improve the quality of life for people in our community," said Arturo Osorio, 2016 Walk Co-Chair. His Co-Chair and President of Topp Solutions, Joe Balerdi, added, "We're eager to support that crucial work by researchers, service providers, and medical experts, both close to home and all across the country."
Alpha Xi Delta proudly serves as the North American sponsor of Autism Speaks Walk. Since 2009, Alpha Xi Delta has raised more than $4 million dollars for Autism Speaks, and they currently walk and volunteer at Autism Speaks Walk events nationwide. Alpha Xi Delta's work not only generates vital funds for autism research, but also raises awareness for autism. On World Autism Awareness Day in 2015, they lit more than 1,200 buildings blue as part of Autism Speaks' Light It Up Blue campaign in honor of the 70 million people affected by autism.
"We're very proud of the work our members have helped Autism Speaks accomplish," said Elysia Gallivan, Executive Director of Alpha Xi Delta. "This partnership is especially meaningful for our Sisters, families and friends as the number of people affected by autism continues to increase. We're excited for the next phase of our partnership as we further commit ourselves to Autism Speaks' signature fundraising and awareness event."
Sponsors of the walk include: South Florida Ford Dealers, City of Doral, Sedano's Supermarkets, Greenberg Traurig, MasTec, Publix Supermarkets, NewStar, Miami-Dade Fire Rescue, BDO, IMUSA, TD Bank, Mercantil Commercebank, Norwegian Cruise Lines, SunTrust, Cindy & Mike Moran, Patricia & Robert Cambo, Butterfly Effects, Topp Solutions, DHL, FPL, Assurant, Baptist Health South Florida, FedEx, Ryder, Beckman Coulter Foundation, FirstBank Florida, UM CARD, Raymond James, LAAD, Johnny Rockets, LIME Communications, Macy's, Perry Ellis International, Navarro Discount Pharmacies, Coconut Grove Bank, Adonel Concrete & Miami-Dade County Public Schools.
Media partners include: Univision 23, NBC 6, Telemundo 51, CBS 4, My93.9, MIX 98.3, Radio Mambi, Amor 107.5, Rand Marketing, MIAMIGO, Miami's Community Newspapers, La Portada Magazine.
For more information about the Miami Autism Speaks Walk, please visit: AutismSpeaksWalk.org/Miami. Or contact: 786-456-8919 / miami@autismspeaks.org.
About Autism
Autism is a general term used to describe a group of complex developmental brain disorders – autism spectrum disorders – caused by a combination of genes and environmental influences. These disorders are characterized, in varying degrees, by communication difficulties, social and behavioral challenges, and repetitive behaviors. An estimated 1 in 68 children in the U.S. is on the autism spectrum.
About Autism Speaks
Autism Speaks is the world's leading autism science and advocacy organization. It is dedicated to funding research into the causes, prevention, treatments and a cure for autism; increasing awareness of autism spectrum disorders; and advocating for the needs of individuals with autism and their families. Autism Speaks was founded in February 2005 by Suzanne and Bob Wright, the grandparents of a child with autism. Since its inception, Autism Speaks has committed more than $570 million to its mission, the majority in science and medical research. To learn more about Autism Speaks, please visit AutismSpeaks.org.
About Alpha Xi Delta
Founded in 1893 at Lombard College, now Knox College, in Galesburg, Illinois, Alpha Xi 3 Delta inspires women to realize their potential by providing opportunities for Sisterhood, leadership, knowledge and service. The national women's fraternity has more than 150,000 initiated members and chapters on 125 college campuses. For more information on Alpha Xi Delta Fraternity, visit www.alphaxidelta.org.