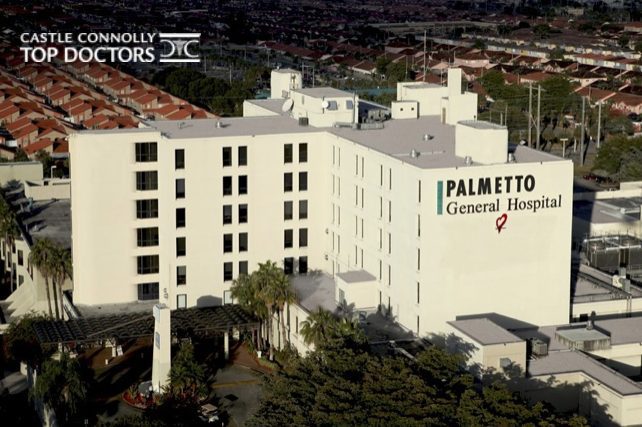 A select group of Palmetto General Hospital physicians achieve the  honor of being named to the "Top Doctors" list by Castle Connolly Medical Ltd., a research firm that specializes in providing consumers with information about the nation's best doctors and hospitals. The doctors on the medical staff of Palmetto General Hospital included on the list are:
Maria Victoria Egosquiza M.D. Pediatrics

Ricardo Machado M.D. Cardiovascular

Luis R. Pagan M.D. Neurosurgeon

Jose Ramon Pinero M.D. Cardiovascular

Hugo Salinas M.D. Colon and Rectal Surgery

Emery Salom M.D. Gynecologic Oncology

Jorge L. Sosa M.D. General Surgery-Bariatric Surgery

Eugenio M. Guevara M.D. Neurology
The selection process for the "Top Doctors" listing begins with peer recognition through surveys that are given out to thousands of physicians and other healthcare leaders nationwide. They are asked to identify who they believe are highly skilled, exceptional doctors. Castle Connolly then reviews the peer-recommended list for standards, including medical education, training, board certifications, hospital appointments, administrative posts, professional achievements and malpractice and disciplinary history.
"We are honored that our that this elite group of our physicians are being recognized by Castle Connolly. They are some of the most dedicated doctors in our community," said Ana Mederos, CEO of Palmetto General Hospital. "We congratulate them on this recognition."
About Palmetto General Hospital
Palmetto General Hospital, part of Tenet's Miami-Dade/Broward Health Network, is a 360-bed acute-care hospital located at 2001 West 68th Street in Hialeah, Florida. The hospital has served the medical and health care needs of Northwest Miami-Dade and Southwest Broward counties for 40 years.