The merriest month of the entire year was promptly celebrated by the Interact Club of Ronald Reagan/Doral Senior High School in the most noteworthy fashion: in the great outdoors! Basking in the sunlight of a Miami-style winter morning, dozens of Interactors dutifully cleaned the streets of Doral on December 12, 2015, before the holiday season, wiping them clean of all of the muck and guck thrown out by hasty pedestrians, and disposing trash items in large garbage bags. Followed by a few City of Doral police officers and a water-carrying van, these high school students were able to finish their holiday community service in just a few hours. This was all in a day's work for these great students.
Furthermore, on the warm, drizzling evening of December 22nd, Ronald Reagan's Interact Club, with the assistance of the Rotary Club of Doral, hosted an elaborate, creative showcase at the Starbuck's located on 19th street, in which dozens of Ronald Reagan students displayed their very own musical talents, in support of Team Chispy, one of the many teams comprising the organization Relay for Life, dedicated to eradicating cancer and advancing research on the topic.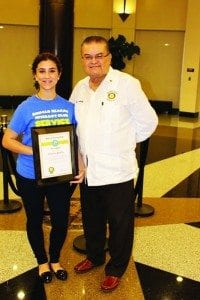 It was an interesting scene: teenagers draped across comfy pavilion chairs, adoring parents with video cameras in hand, onlookers curiously sipping on mint-flavored mochas. As the evening ensued and darkness crept over the scene, the energetic vibrato of perfectly tuned guitar strings, hearty vocals beautifully harmonizing and blending to form Christmas carols, and the brave voice of a spoken verse poet allowed everyone to be completely immersed in the experience. To show their many thanks, the citizens of the community of Doral commemorated the courage of these students by slipping monetary donations adding up to more than $150 into endearing boxes bearing the label: Relay for Life of Doral- Donation Box for Team Chispy. Although a slightly distinct manner of celebrating the culmination of a previous year and the commencement of a new one, this event was truly worth adulation.
Of course, however, the Interact Club would certainly not have been able to accomplish anything without its focused, savvy, and kind president: Natalia Padillo. She has graciously put in so many hours of her afternoons contacting community service organizations and leading the club to be more successful in its service endeavors. She truly is a model for what it means to hold service above self.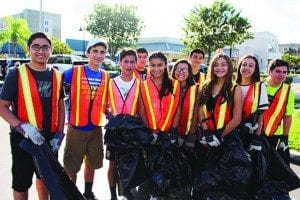 To give her just a bit of our thanks, more than twenty Interactors attended a City of Doral Council Meeting on the eve of January 13, 2016, in which Natalia was awarded a plaque for her leadership, and was congratulated by council members such as the City of Doral's Mayor, Luigi Boria, and Vice-Mayor Christi Fraga. Discussing all of Interact Club's former accomplishments: assisting organizations such as Miami Children's Hospital, Lighthouse for the Blind, Autism Speaks, Relay for Life, giving away Thanksgiving turkeys for the homeless, and supporting local athletic triathlon events, all with the help of Natalia, truly allowed the club members to feel invigorated and accomplished. We can't wait to see what is in store for this club come the rest of 2016!