FIU Symphony/ National Youth Symphony of Uruguay- FREE and Open to the Public!
February 4, 2013 @ 7:30 pm

-

9:00 pm
Event Navigation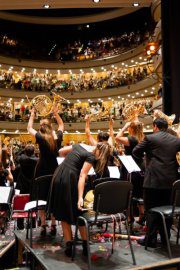 The National Youth Orchestra of Uruguay will be performing alongside The FIU Symphony Orchestra on February 4th, 7:30pm in the Herbert and Nicole Wertheim Performing Arts Center. Robert Davidovici, Artist-In-Residence at FIU, will be conducting to Shostakovich's Festive Overture. The concert is free and open to the public. The youth orchestra will be performing this concert only once while they are in town. Shostakovich wrote Festive Overture in 1954 on a commission for the Bolshoi Theatre's celebration of the 37th anniversary of the October Revolution (in 1917).  Shostakovich completed the piece in less than a week. It opens with an exuberant, rising fanfare which transitions to a spiritedly, lyrical main theme at a breakneck tempo.  The overture speeds past, with a brief return to the fanfare figure before an energetic coda. The overture featured in the 1980 Summer Olympics in Moscow and the 2009 Nobel Prize concert.