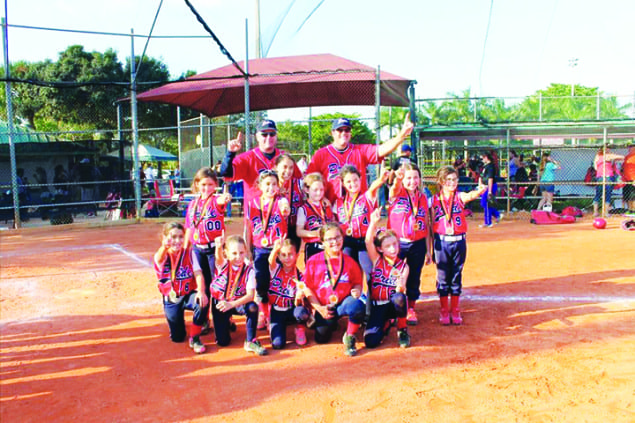 On Saturday February 20 the Perrine Baseball Softball Association (PBSA) held Opening Day at Lakes by the Bay Park. At opening ceremonies, the 8U Pride Lightning travel softball team were recognized for a First Place finish at the 2015 Mad Chill Softball Tournament.
The tournament, which took place on November 1, 2015 in Pembroke Pines Florida, raised money for diabetes research. It is the first Travelball softball win in the 61 year history of PBSA.
The Pride 8U are coached by Alan Bonwit and David Jullie of Cutlerbay, Florida.
The 8U PBSA players who made history are:
Aubrey Alonso
Natalie Alecia
Sophia Herran
Tabatha Munez
Carlee Robinson
Mia Torres
Grace Silberberg
Megan Porras
Stephanie Rodriguez
Angie Gonzalez
Madison Rodriguez
Victoria Ormaza
The coaches would like to thank the Board of Directors of PBSA, Softball Commissioner Martin Massferrer, the parents, players and the Cutler Bay community for all the local softball support.
Cutler Bay residents can follow the team on their Facebook page PBSA Pride 8U Lightning.