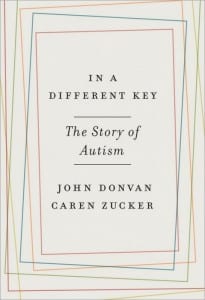 In the book In A Different Key: The Story of Autism by John Donvan and Caren Zucker, two award-winning journalists bring us the definitive history of autism, weaving together stories of human ingenuity and perseverance and offering a profound look at how we understand disability.
Eighty two years ago in Forest, MS, a boy named Donald Triplett was born who was destined to become the first child in history diagnosed with autism. But that was only after his mysterious behaviors led his parents on a love-driven journey to understand why their son was different from other children, and how he could be helped.
It would take them years of patient determination, and one extraordinary clinician, before the diagnosis of autism was even conceived.
Since then, recognition of autism has traveled far and grown exponentially — becoming, ultimately, the most talked about diagnosis of our day.
In this profoundly humane and beautifully rendered history, John Donvan and Caren Zucker unfold the full, magisterial, decades-long narrative — the story of autism — as a series of dramatic episodes, never told before with such intimate power. Some are dark: children in institutions being shocked with electricity and fed LSD; mothers being told that they were the cause of autism, and even a father killing his autistic son out of the desperate thought that he'd be better off dead.
But there are many, many heroic moments as well — those of autistic people, autism parents, and scientific amateurs who changed the world as we know it in classrooms, courtrooms, the media, and elsewhere. Setting out from that Mississippi town where Donald still lives today, this is an unforgettable portrait of science, parenthood, empowerment, and the meaning of "being different" in the 21st Century.
More than seven years in the making, In A Different Key: The Story of Autism by Emmy Award–winning correspondent John Donvan and Peabody Award–winning television news producer Caren Zucker weaves together largely unknown stories of previously unsung heroes, whose ingenuity, perseverance, and resilience offer new insight into some of the seminal moments of the past near-century: the rise of the disability rights movement, deinstitutionalization, the effort to mainstream those on the spectrum, breakthroughs in neuroscience and our understanding of the mind, and the birth of the neurodiversity movement.
Donvan and Zucker, whose own families have been affected by autism, have been on the front lines of reporting on the social, medical, and legal aspects of autism since 1999, even before it became a national topic of conversation.
Their groundbreaking ABC News series, Echoes of Autism, launched in the early 2000s as network television's first regular autism beat.
Their article "Autism's First Child," which planted the seed for this book, was a finalist for the 2011 National Magazine Award in Profile Writing.
As Donvan and Zucker explain, it is striking to see how ordinary people — so often parents who were merely following an instinct to do right by their child — were at the forefront of creating major social change, and a realignment in the priorities of scientific research. Just as impressive is how, in time, this activism came to include the full participation of many more autistic people themselves. In this way, In A Different Key presents autism as a revealing lens on society's mixed record in the slow-moving project that is the acceptance and celebration of those who are different.
In their book Donvan and Zucker discuss:
• What is signified by the fact that, only recently, the CDC reported a new prevalence rate for autism: 1 in 45 children, and the real meaning behind numbers like these;
• What is next for the 500,000 teenagers diagnosed with autism who will be become adults in the coming decade, with no plan in place to support them;
• How the authors' own journey into autism's forgotten past so often surprised them — not just the disturbing stories, but also those that give bright inspiration for the work still left to be done;
• Whether there truly is an autism "epidemic" and if vaccines played a part in it;
• Why, up until 30 years ago, very few people had heard of autism, and why that changed;
• The complex impact of the neurodiversity movement, whose praiseworthy efforts to see autism de-stigmatized and autistic difference celebrated have been accused of causing the impairments of severe autism to be trivialized, and whose campaign against the search for a cure directly conflicts with many parents' best hopes for their children
• New evidence (virtually unknown in the English-speaking world) that Hans Asperger, discoverer of the syndrome that bears his name, cooperated with the Nazis and knowingly sent disabled children to their deaths;
• Which therapies are backed by science and which by wishful thinking
• How the definition of autism is an ever-moving target — a reality that underlies the extraordinary amount of strife that afflicts the "politics of autism," and
• How the popular concept of the autism "spectrum" represents only the latest consensus on the condition, and may not necessarily stand the test of time and science.
Written by two journalists personally committed to widening respect, understanding, and support for the loved ones in their families—and in every family touched by autism — In A Different Key is an eloquent and passionate investigation that sheds light on how all our brains are wired, while making the story of autism one we are all in together.
John Donvan is a correspondent for ABC News, and host/moderator of the Intelligence Squared U.S. Debates. Caren Zucker is a 25-year veteran of ABC News, and producer and co-writer of the PBS Series Autism Now.
The authors will be visiting Miami and talking about their book at Books & Books Coral Gables, 265 Aragon Ave., on Wednesday, Mar. 16, at 6:30 p.m.