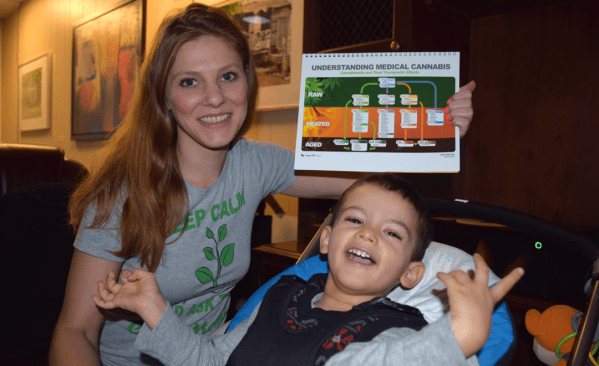 Passage of medical-marijuana legislation remains an uphill battle across the country. But a chance to score a landmark victory for the cause could come with Amendment 2, known also as the Florida Right to Medical Marijuana Initiative. This question comes up for a vote on the Nov. 8 general election ballot. After falling less than three points short of the required "supermajority" vote of 60 percent in 2014, the bill is the primary focus of CannaMoms, a Tampa-based nonprofit advocacy group founded in 2014. The group formed when three mothers met while supporting Florida Senate Bill (SB) 1030, which authorizes low-THC cannabis treatments.
And now each mother is doing exactly what mothers do – continue to fight for what's best for their children. Jacel Delgadillo's five-year-old son Bruno suffers up to 400 seizures a day as a result of Dravet syndrome; Moriah Barnhart's five-year-old daughter has aggressive brain cancer; and Renee Petro's 14-year-old son suffers from FIRES, an explosive form of epilepsy.
Unfortunately, the relief felt by the moms and their children was short-lived, as the limitations set forth by SB 1030 – limitations that can be undone though Amendment 2 – continue to prevent the mothers from getting their children the help they need.
"Because of the term 'medical marijuana,' a lot of people confuse what is allowed through SB 1030 with what we really need, which are many cannabis treatments not currently allowed," said Delgadillo. "Only one part of what we need has been given to us. It's like giving us Tylenol but forbidding us from using Ibuprofen."
Delgadillo has spent more than $10,000 to find treatment for Bruno. Left with little choice after the FDA-approved medication he was on began giving him drug-induced lupus, she flew to the San Francisco to obtain a medical marijuana card and start him on a two separate treatments: CBD oil, commercially known as Charlotte's Web; and THCA oil, derived from a non-psychoactive cannabinoid that stops his seizure clusters. But while the CBD oil is legal under current Florida law, the THCA oil, which does not cause the "high" generally associated with marijuana, is not.
That is, unless the patient in question is terminally ill. On March 7, Gov. Rick Scott signed HB 307, a bill which allows the use of full-strength medical marijuana by people with one year or less to live – a stipulation that still leaves non-terminal cases like Bruno in limbo.
"We honestly feel that HB 307 was partially passed to confuse voters," she said. "I don't want my child to have just a year left to live in order for him to be able to get the help he needs. We still need Amendment 2 to pass."
The CannaMoms have several strong supporters on the opposite side of the country. While attending conferences in 2014 to support medical cannabis legislation, they met Harborside Health Center and MedMen CEOs Steve DeAngelo and Adam Biermen. Both men encouraged the moms to visit them in San Francisco to learn, test, and receive medical treatment for their children. And so, later that year, MedMen flew Delgadillo, Barnhart, Petro, and fellow CannaMom Anneliese Clark into the Bay Area with the support of Harborside – and found them treatment.
The moms met researchers from Steep Hill Lab, the first medical cannabis laboratory in the country. They also received treatment and diagnoses from Dr. Frank Lucido, whose involvement in the movement spans two decades, and befriended Bryan Rosenthal, whose nonprofit Cann-I-Dream Foundation supports children's causes at a national level.
Upon meeting Jacel and giving cannabis oil to Bruno, who has hundreds of seizures a day, Rosenthal said Bruno was able to have a "miracle day" with no seizures. "How can you say that child should not have that? If there is something that can help children who can't help themselves, we should do it."