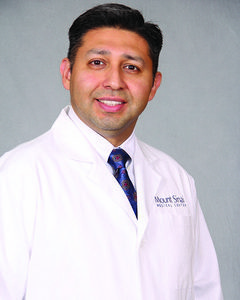 Mount Sinai Medical Center welcomes Dr. Clifford Medina as its new Chief of General Medicine. In his role at Mount Sinai, Dr. Medina will be working alongside the hospital's team of internists and endocrinologists to ensure patients continue to receive high quality care consistent with the medical center's mission. In addition, he will oversee the enhancement of patient safety, patient and physician satisfaction and the growth of the medical center's internal medicine practices. Dr. Medina will also be part of Mount Sinai's medical education program, which trains future doctors and healthcare providers, many of whom continue to practice medicine in our community.
Dr. Medina comes to Miami Beach from South Carolina where he previously held the position of Internal Medicine Hospitalist at McLeod Regional Medical Center and served as Team Lead. While there, he also served as chair of the chronic obstructive pulmonary disease committee, chair of the sub-committee on diagnostic imaging process improvement, and physician advisor.
Dr. Medina completed his internal medicine residency in 2001 at Brigham & Women's Hospital in Boston, Massachusetts. In 1998, he graduated from Harvard Medical School with a Doctor of Medicine degree. He also obtained a Master of Business Administration and certificate in Health Sector Management from Duke University in 2014.
Dr. Medina is board certified in internal medicine and sleep medicine by the American Board of Internal Medicine. He is an active member of various professional organizations including the American College of Physicians, Society of Hospital Medicine, American Association of Physician Leaders, American Board of Quality Assurance and Utilization Review Physicians and the American Academy of Sleep Medicine.
Dr. Medina will see patients at Mount Sinai Medical Center's main campus located at 4300 Alton Road in Miami Beach.
For more information on Dr. Clifford Medina, call 305-674-2430 or visit msmc.com.