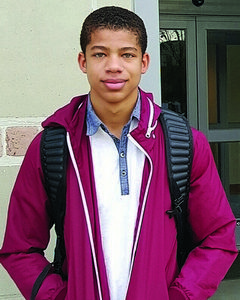 Harris Scott is a rising senior at Palmetto High School. Scott is still new to Florida. Scott moved to Miami in October from Los Angeles when his dad secured a new job here. Moving is never easy but he's adapting.
"It's like a new chapter in my life," he says. "I felt ready to try new things. It felt like preparing for my college will be like."
That doesn't mean the change has been easy. He says it was hard for him and his younger brother. But he met new people, the teachers at Palmetto were nice and he loved his classes.
One thing that has been interesting is how many similarities there are between Miami and L.A.
"People ask me what are people in L.A are like," he replies. "Just like you guys. Trust me, everything is the same. Except for the mountains and the cold water in the ocean. The only thing I miss is the waves."
Before moving to Miami, Scott volunteered as a basketball coach for a travel team that played in his school's gym.
"I asked the coach if I could work with the organization, and help train the kids," he says. "Most of my weekend was helping coach young kids of 10-11-12. He had multiple teams. I'd help the younger teams. Or I'd ref."
While in California his community service included a stint as a Cook-Off Coordinator for the Cookies for Kids Cancer Foundation fundraiser. He also participated in the Soles4Souls shoe drive.
Locally he's become involved with The Little Lighthouse Craft Night.
"They do numerous activities," he says. "The one I like doing the most is craft night at the Children's Home Society."
The students work with children who are at the Children's Home Society because of parental or domestic issues.
"We'll go there and play games," he says. "We painted pots. We do a lot of paint, coloring. We make gooblygook. You make it with glue and flour and food coloring. It makes a swishy slimy material. It's a lot of fun."
Despite coming to Palmetto in late October, Scott was able to secure a spot on the varsity basketball team.
"I feel like some of those friends, I'm going to be friends with forever," he says. "It helped my family. It was great. I loved practicing with them, playing with them. Taking the bus to the games."
The team had an off year because of some off the court situations. However, he thinks the team will be better next year. Before school ended, Scott was inducted in the National Honor Society so he'll be increasing his community service.
One of the things he already does is tutoring.
"I help some of the kids in my class," he says. "A lot of them come for help at no charge. Usually I have a good 35-40 minutes to help them after school."
This year, Scott won the Harvard Book Award that is given to an outstanding junior.
When he begins his college applications, he will seek a school where he can major in biology or biochemistry.
"I love science," he says. "I know I want to do something in health care or medicine. I want to work internationally. I don't want to work in just one area. That's why I'm looking at public health, or global health."
Last summer, Scott studied toxicology at Georgetown in a weeklong camp program.
"I learned a lot about toxicology and it helped me narrow down what I want to do in the future," he says.
Linda Rodriguez Bernfeld