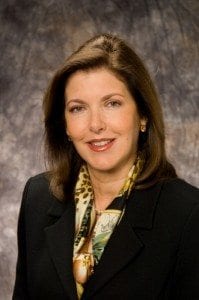 Univision Senior Vice President and Regional General Manager Claudia Puig has been elected chair of FIU's Board of Trustees.
Puig, who had served as vice chair, succeeds outgoing Chair Albert Maury, who will not seek reappointment when his term ends in January.
"FIU is blessed with board members who are engaged, passionate and very hard working. Albert Maury has served this university with distinction for years and we thank him for his leadership," said FIU President Mark B. Rosenberg. "Claudia Puig exemplifies selfless commitment to this community and our students. We could not have asked for a better advocate as the leader of our board."
"I am proud to serve as chair of the Board of Trustees at FIU," said Claudia Puig, senior vice president and general manager, Univision Miami.  "It truly is an honor to continue my commitment to the community I serve in this role at a student centered, public research University based right here in Miami."
Puig oversees Univision's local properties in Miami and under her leadership Univision Radio's FM stations in Miami are ranked among the top stations in the market and WAQI-AM ranks number 1 among the AM stations. In addition, during the November Sweeps, Univision 23 had the most-viewed early local news in the city.
In recent years, Puig was appointed by President Bush to the Corporation for Public Broadcasting. She is also a board member on the City of Miami Arts and Entertainment Council and lives in Coral Gables.
Maury, president and CEO of Leon Medical Centers Health Plans, was elected to lead FIU's Board of Trustees in 2011. He is stepping down after completing an eight year tenure on the board.
A two-time FIU graduate, Maury has an extensive background in health care finance, executive negotiations, budgeting and contracting. He also was recognized with an FIU medallion for being a staunch advocate for children and for his leadership and work in the community.
The Board of Trustees will likely elect a vice-chair when it meets again in March 2016.