Experts in public health and global health issues from approximately 20 countries came together March 1-2 for the International Conference on Global Health, hosted by the FIU Global Health Consortium (GHC).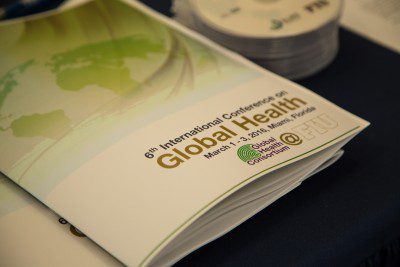 The sixth annual conference, held at the MARC Pavilion at Modesto A. Maidique Campus, welcomed experts and decision-makers from Latin America, the Caribbean and the United States to discuss a host of public health challenges, with a focus on preventing emergent diseases from becoming global pandemics.
"FIU has an important role to play in combating infectious diseases, and its influence in Latin America and Caribbean should help provide education and possible solutions to solve the global health issues affecting the region," says GHC Director Carlos Espinal, who served as a moderator for the opening session of the conference.
Tomás R. Guilarte, dean of FIU's Robert Stempel College of Public Health & Social Work, delivered the opening remarks for the conference and introduced keynote speaker Roberto Tapia-Conyer, the director general at the Carso Health Institute and co-director of the Carlos Slim Foundation.
"The speakers are world-renowned thought leaders in their respective disciplines and they bring a comprehensive view of the challenges that global health faces today," Guilarte said. "The solutions to these challenges will require innovative transdisciplinary approaches and collaborations at the global level, as it was beautifully presented by Dr. Tapia-Conyer in his presentation."
The conference featured more than 20 speakers to discuss a wide range of topics, including current public health challenges in the Americas, the globalization of infectious diseases and confronting emerging viral threats. The speakers included experts from Centers for Disease Control and Prevention, the U.S. Southern Command and the Global Virus Network.
João Bosco Siqueira, who is an advisor in the Brazilian Ministry of Health for infectious diseases such as dengue, chikungunya and now the Zika virus, delivered a presentation on the Zika outbreak in Brazil and the lessons the nation learned from dealing with the spread of the virus.
"The Zika virus took us by surprise and spread like fire. It presents a challenge for most countries in Latin America and they can learn from our experience," Siqueira said. "We have developed several guidelines and strategies to try to control its spread. This is a very important issue for everyone in the room."
Siqueira also praised FIU for taking a leading role in bringing together experts in public health to share their knowledge and come up with solutions for many of the pressing challenges facing the region.
"I think that knowledge is our best weapon to fight diseases – to identify the risk factors and how to control them," he added. "The work FIU is conducting in these strategies, and getting the experts together to share their knowledge and improve the way we are preventing disease in the world, is amazing."
For more information about the FIU Global Health Consortium, go to their website.