"Be calm, take it all in, knowledge can never be taken from you."
– Marile Lopez to her son on his first day of class at FIU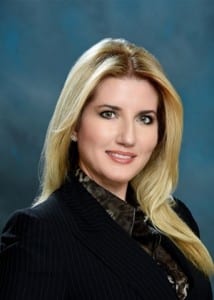 The FIU Alumni Association is proud to present Marile Lopez '91, graduate of the College of Arts, Sciences & Education, with the Community Leadership Award during the 15th Annual Torch Awards Gala. Her endeavors in civic and economic development in the South Florida Community inspired her peers to elect her as this year's Community Leadership Award nominee.
Marile Lopez has mastered the balancing act between her two worlds, as a parent of five, a highly influential and active member of the community, and as the Chief Financial Officer for the Jorge Luis Lopez Law Firm, as well. Her involvement with the community has also elevated her to several leadership roles within various organizations, most notably as Chair of the Miami Children's Hospital Foundation and Laureate Society, and Logistics Director for the Catholic Association of Latino Leaders.
Her and her husband, Jorge, are well known in the FIU community for their involvement with various organizations that have partnered with the university. Their actions have resulted in several of the major gains at the forefront of Miami's economic expansion. One of her strongest ties to the university is through family, as her eldest son, Andres Raul, is currently attending FIU as an International Relations student, set to graduate in December of this year.
"Thank you, first of all, as this has been a humbling experience for me to be chosen for this award, especially from such an established university. I did not expect to receive this award, and I would like to thank the University for its decision," said Marile in response to how she felt about receiving the award.
She views this as a significant accomplishment for an FIU graduate, such as herself and she hopes to use the platform to advocate for the University. In her own words, she shared, "The award is not just an accomplishment for me, but for my entire family." With a goal to act for and toward community improvement, Marile's family is a driving force alongside the staff of the University, professors and janitors included.
When asked to share her final thoughts, Marile emphasized how the University, even in its young age, has stood as an example of a higher institution. She hopes that future students will understand the milestones they are setting once they begin their time at the University and she encourages future students to value the knowledge they have gained at FIU.
Marile will be recognized at the 15th Annual Torch Awards Gala on March 19, 2016 at Fontainebleau Miami Beach.
You can learn more about the event at torchawards.fiu.edu.