With a big bright smile, Indiana Sanchez stands in the middle of the Graham Center passing out flyers. Inviting and warm, she is working to encourage students, faculty and staff to register to vote.
Behind her, in the "pit," a group of student organizations have come together as part of National Voter Registration Day to encourage FIU students to vote in the upcoming presidential election on Nov. 8. Among them is the organization Sanchez founded: Make it Count Vote Now. Aimed at building awareness of the importance of voting and facilitate the voting registration process, the group has grown into one of the largest non-partisan organizations in the United States motivating first-time voters to register to vote.
Chasing her American dream
Sanchez is the personification of the American dream.
At the age of 7, she immigrated to the United States from Managua, Nicaragua. She didn't speak a word of English. Her parents worked two minimum wage jobs just to make ends meet.
"I saw how hard my parents worked to give their children a better life," Sanchez says.  "To achieve success in life you have work for it."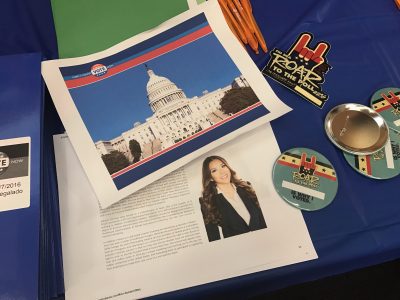 At age 14, she got her first job in an ice cream store. At 18, she started modelling and was signed by MC2 Miami modeling agency. By 20 years old, Sanchez had won Miss Nicaragua, and went on to compete in Miss Universe where she placed top 20.
Sanchez dedicated her year as Miss Nicaragua to helping out the less fortunate in her home country of Nicaragua.
"I am a philanthropist at heart." Sanchez says.
After coming back to Miami to finish her business administration degree at Barry University, she founded the Proof Foundation which provides free tutoring to children of low income families.
After graduation, Sanchez got into real estate investment, and has built her career in health care mergers. She is pursuing her master's in health care administration at FIU's College of Business. And hopes to work to improve our current health care system.
Dedicated to helping her community, she was always looking for volunteer opportunities.
Statistics inspire change
In 2015, Sanchez learned about the dismal voting rates, particularly amongst new voters, young voters and Hispanics.
According to the U.S. Census bureau, in 2014, 50 percent of the eligible voters in the United States cast a vote, only 16.2 percent of 18 to 34 year olds voted and only 27 percent of Hispanics voted. On the other hand, 40.6 percent of African Americans and 45.8 percent  of white voted.
"I am the type of person that when I see a problem, or something that I feel I can change, I do it," Sanchez said. "As Latinos, we have the power to elect the next president and we shouldn't be taking voting lightly. I am committed to make a change in the Latino voting statistics."
Having been an immigrant and getting the opportunity to become a U.S. citizen, Sanchez values the right to vote. Make it Count Vote Now is seeking to register in 2016 one million U.S. citizens through a unique marketing tool that reaches out to companies across the United States, and encourages them to motivate their employees to register to vote.
The program has made appearances on CNN, CNBC, Bloomberg, NBC, CBS, ABC and Fox.
It works by bringing volunteers to visit colleges and work in areas that are frequented by millennials; engaging political science departments of major universities and colleges in order to obtain access to significant student audiences; utilizing sponsor databases to email about voter registration opportunities; leveraging social media as a tool to reach millennial voters; and partnering with other voter registration organizations to help register new voters.
"We are working nationwide. We have registered several thousands of new voters, but we still have more work to do," Sanchez said. "I am proud all of that we have accomplished."