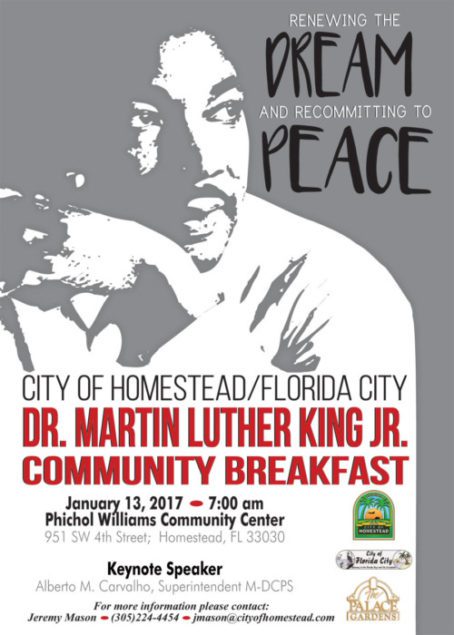 Every year the Homestead and Florida City communities come together to honor the life and legacy of Dr. Martin Luther King, Jr. with a free community breakfast. This year, the event will take place at 7AM on Friday, January 13th at the Phichol Williams Community Center (951 SW 4th ST, Homestead, FL 33030).
This annual gathering is a morning of celebration and contemplation as everyone from distinguished dignitaries to the youngest children reflect on the struggles of the past and dreams for the future. This year's theme of "Renewing the Dream and Recommitting to Peace" is a nod to the headlines of the past year that highlighted the struggle for equality in the face of rising tensions.
Headlining the event will be Keynote Speaker Alberto Carvalho, the Superintendent of Miami-Dade County Public Schools. The program will also include recognitions for the significant impacts of several community leaders.
The Breakfast is free and open to the public, but an RSVP is requested. Please RSVP at www.cityofhomestead.com/mlk. For more information, contact Jeremy Mason at (305) 224-4454 or jmason@cityofhomestead.com