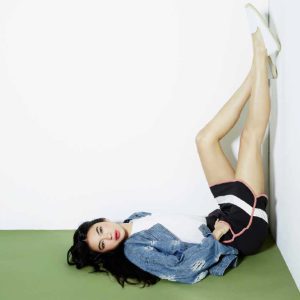 Design inspirations drawn from traveling overseas are what triggered the beginning stages of Synergy Organic Clothing. Owner Kate Fisher was attracted to the textiles and fashions she explored during her travels to Asia. Over time, she began buying textiles and clothing overseas that she later sold upon her return to her home in the United States. Little did she know that this would be the segue to Synergy, which emerged
from a spirit of adventure and the symbiosis of design influence from from both Eastern and Western cultures.
Today, Kate operates Synergy with her husband, Henry Schwab. They have merged Kate's talent in clothing design savvy with Henry's experience with GreenPeace and as the co-founder of Phish's touring division of The Waterwheel Foundation. Together, they have created a that is a personal reflection of their organic roots and adventurous spirits.
Synergy has successfully taken organic fashion to another realm, fusing a modern yet timeless design. Synergy is sustainable and gentle on Mother Earth, using Indian organic cottons and low-impact dyes. In ac-cordance to fair trade practices, all of their clothing is handmade in Nepal.
The future of Synergy looks exceptional, as the brand explores the world to gather inspirations from both natural and urban landscapes. While cultural influences are the root of Synergy, it is also their goal to create styles that look and feel great.
Designed to flawlessly fit the natural curves of a women, their pieces capture all aspects of the wearers' lifestyle. Synergy's collections focus on everything from dresses to active yoga wear. No matter what your plans are for the day or night, Synergy has something for you! business
About Whitney: From product development to personal shopping and wardrobe styling, Whitney has conquered several aspects of the fashion industry. Whitney is inspired by the busy streets of NYC … and loves to incorporate street style into everything she wears!