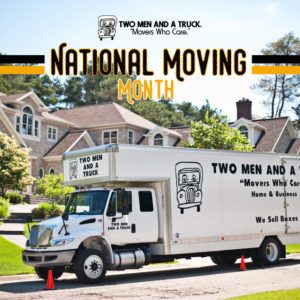 The sun is shining, the temperatures are rising, and that means one thing – it's moving season. According to the United States Census Bureau, the average American will move 12 times in his or her life. According to the American Moving and Storage Association, nearly half of all moves are completed between May and Labor Day.
The month of May kicks off "National Moving Month", the busiest time of the year for all moving companies. According to Industry Trends, AMSA's quarterly statistical publication, more than 37 million Americans relocate to a new residence each year, with these moves seeing an upward spike during the month of May, and peaking around July.
"With the summer approaching and students wrapping up their school year, we have been experiencing a high volume in calls requesting our moving services. Customers choose our service because of our reliable reputation and the professionalism we offer. We are honest and upfront with all of our customers from the moment you call our office to the moment we complete your move." says, sales manager, Julian Montalvo.
As you prepare to choose a company for your upcoming move, it's important to research the services offered by each company and decide which services best fit your needs. It's also important to understand the moving and storage regulations of your state, and how they apply to local movers.
According to the experts here at TWO MEN AND A TRUCK®, it's important to consider these questions when deciding on a moving company:
Are they licensed?

How are your belongings protected?

Do they employ day labor?

Are they professionally trained?

Do they offer free quotes?

What is the minimum charge/how do they charge?

Is there a deposit required?

What is their cancellation policy?
TWO MEN AND A TRUCK® is the largest franchised moving company both in the United States and internationally. Currently there are 349 national locations and 2,534 trucks operating in the U.S.; in total, the company operates more than 380 locations and 2,700 trucks. TWO MEN AND A TRUCK® has performed more than 6 million moves since its inception in 1985. The company has seen consistent monthly growth dating back to December 2009 and more than 60 consecutive months of record growth. Each location is independently owned and operated. For franchising opportunities, visit franchise.twomenandatruck.com.
For more information, call the Miami TWO MEN AND A TRUCK® at (305) 819-3340 or visit twomenandatruck.com.