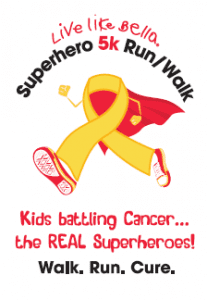 The Live Like Bella ® Foundation is pleased to announce their second annual Live Like Bella ® Superhero 5K Run/Walk. Grab your capes and let's join forces as superheroes descend to fight for a cure!  The Live Like Bella® 5K in Miami, Florida, will be on Saturday, March 5, 2016 starting at 8:00am at Zoo Miami. The event will bring athletes of all calibers together to support the battle against childhood cancer. Participants are encouraged to register in advance to receive the reduced rates of $40 for Adults (5K Runner – timed / Walkers – Not timed), $30 for Kids ages 12 and under (not timed). Registration is also available on the day of the event, but at an increased rate.
Running enthusiasts and all Bella Believers are invited to participate or attend the event to raise awareness for the fight against childhood cancer. In addition to the 3 mile course, the Live Like Bella® 5K Run/Walk is a family friendly event, which includes the participation of several childhood cancer Superheroes and their families.
Participants are encouraged to form a team, bringing friends and family members together to challenge themselves in completing the course and raise funds toward curing pediatric cancer.
We are certain this event will become one of the favorite family & fitness events within our community. This fundraising event will combine many of the ways to Live Like Bella® and remind us of the truly important things in life, such as health, enjoying family time together, eating s'mores and belly laughing. This event will bring the childhood cancer community together to run for a cure.
This year the Live Like Bella® 5K Run/Walk will include various forms of entertainment, music and guest speakers. Awards will be given to the fastest male and female runners in the following categories: kids under 12, 13-19, 20-40 and 41+, as well as fast male and female overall. Additionally, prizes will be awarded to the top individual and team fundraiser.
Check-in the day of the event begins at 7am; and the 5K Run/Walk will begin at 8:00am. For more information on the event, to volunteer, register or become a sponsor, visit LiveLikeBella.org. Questions may be directed to Jessica De Quesada at (786-203- 3941) or Jessica@LiveLikeBella.org.
About Childhood Cancer: 
Childhood cancer is a general term used to describe cancer in children occurring regularly, randomly and sparing no ethnic group, socioeconomic class, or geographic region. Childhood cancer extends to over a dozen types of cancers and a countless amount of subtypes. Just a few of these cancer types include: Ewing's sarcoma, glioma, leukemia, lymphoma, medulloblastoma, neuroblastoma, osteosarcoma, retinoblastoma, rhabdomyosarcoma and Wilms tumor. In the United States, childhood cancer is the leading cause of death by disease in children under the age of 15. Every day, approximately 250 kids around the world die from cancer, accounting for 91,250 losing their lives to the disease every year.
ABOUT LIVE LIKE BELLA FOUNDATION®
Live Like Bella: Live Like Bella® was founded in June 2013 in memory of Bella Rodriguez-Torres, who passed away at the tender age of 10 from Rhabdomyosarcoma, an aggressive childhood cancer. In her six-year battle she inspired millions to #LiveLikeBella and we are dedicated to finding a cure for pediatric cancer by funding innovative pediatric cancer research. Our foundation also provides support for families with children currently in treatment and provides financial assistance for the purchase of a headstone for families who have lost a child to cancer. For more information visit www.livelikebella.org.