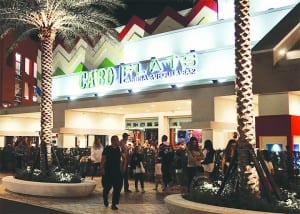 Cabo Flats opened its first location in Miami-Dade on Saturday, January 30. The authentic Mexican restaurant is known for its tacos, burritos and daily happy hours with drinks that are made with fresh juices.
Attached to Cabo Flats is Cabo Fresh Express, which is meant for diners who want to enjoy everything the restaurant offers, just quicker. Cabo Fresh Express will offer an abbreviated menu with the same fresh ingredients.
"The fastest service available will give customers exactly what they want in the time frame that their lunch break or busy lives allow," Director of Operation Adam Robin said. "Burrito bowls made in front of you, fresh salads, unbelievable tacos, avocado fries and Mexican street corn on the go is sure to impress."
There is room for 25 people at Cabo Fresh Express. At the express, the portions will be smaller and the cost will be a little less compared to what the guests who choose to sit down and dine next door.
The casual dining restaurant will seat more than 300 guests and have a semi-private dining space for meetings and parties with room for approximately 75 people. The restaurant also includes a bar at the outside patio.
Cabo Flats is filling nearly 100 positions at the new Dolphin Mall location.
Cabo Flats is dedicated to serving its guests the finest Mexican food and drinks from the freshest local ingredients at a reasonable price. Cabo Flats delivers the highest standards of excellence in the industry and provides prompt, professional and friendly customer service.
For more on the Miami Cabo Flats or this brand new restaurant concept, please contact Christina Nicholson at Christina@MediaMavenAndMore.com or (954) 232-3206.