Special Recognitions Include a Surprise Guest and FIU's Journalism Department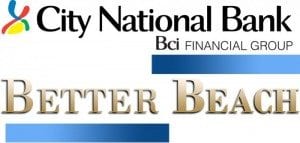 The Miami Beach Chamber of Commerce (Chamber) will host its 4th Annual City National Bank Better Beach Awards on Friday, April 1, honoring influential, trendsetting leaders in the local real estate industry.
Submissions for the City National Bank Better Beach Awards are now being accepted for realtors, architects, developers, designers and entrepreneurs for their contributions to the Miami Beach community. Submissions will be judged by a panel of experts and 14 winners will be announced at the event (full list of categories below). With close to 300 professionals expected to attend, the City National Bank Better Beach Awards ceremony will be held at the Ritz Carlton South Beach from 11:30 am to 2:00 pm. The master of ceremonies for the event will be WPLG Local 10 Sports Director & Lead Sports Anchor, Will Manso.
This year, the Chamber will surprise a real estate professional with a special recognition award for excellence in their industry. Additionally, Dr. Juliet Pinto, the Interim Executive Director and Associate Professor in the Department of Journalism and Broadcasting in the School of Journalism and Mass Communication for Florida International University, will receive a special award for her commitment to resiliency in Miami and Miami Beach. Her award-winning documentary on sea level rise, "South Florida's Rising Seas," aired in January 2014 and was repurposed by PBS NewsHour for their national newscast and featured in the Sun-Sentinel and Miami Herald. Dr. Pinto was also awarded a badge to attend the COP21 United Nations Climate Change Conference in Paris.
"Now in its fourth year, the City National Bank Better Beach Awards has become one of the premiere real estate award events in South Florida," said Chamber Chairman and SVP Gibraltar Private Bank & Trust Michael S. Goldberg. "The event recognizes the accomplishments of outstanding professionals and businesses who continue to grow and strengthen our community. I would like to recognize Melissa Rubin, with RealConnex , who is chairing the subcommittee for the event and the real estate council under the leadership of Reinaldo Borges, founder of Borges + Associate Architects."
City National Bank is proud to once again sponsor the 4th Annual Better Beach Awards. The bank has been involved with this award ceremony since its inaugural event in 2013. Miami Beach embraces a rich diversity of creative thinkers that makes the real estate industry so unique. These awards give the Chamber of Commerce the opportunity to recognize pioneers in real estate who incorporate sustainability, historic preservation, innovative architecture and outstanding citizenship into their work.
"For some 70 years City National Bank has been an integral part of the Miami Beach business community," Jorge Gonzalez, President and CEO of City National Bank said, "We are honored to partner with the Chamber of Commerce to celebrate excellence in business and real estate with the Better Beach Awards and to help promote a better and even more vibrant Miami Beach. We congratulate the honorees and thank them for their contributions to our community."
The event is hosted by the Chamber's Real Estate Council, which acts as a resource to the members of the Chamber who serve the local real estate community. The council supports its members by sharing expertise, offering guidance and knowledge, exploring new educational opportunities and facilitating communication within the industry and community.
The 4th Annual City National Bank Better Beach Awards is being held at the Ritz Carlton South Beach on April 1, 2016 from 11:30 am to 2:00 pm. For more information on nominations, visit www.miamibeachchamber.com.
About the Miami Beach Chamber of Commerce
The Miami Beach Chamber of Commerce was formed in 1921 to promote the economic well-being of Miami Beach's citizens, to improve the quality of life for the entire community and to communicate the view of the business community on major issues of public policy.
About City National Bank of Florida
Headquartered in Miami, City National Bank (CNB) is the financial institution to which Floridians have turned to for more than 65 years. With more than $5 billion in assets, CNB is one of the largest financial institutions based in the state. City National Bank is one of the most liquid and best capitalized banks in Florida and is rated 5 stars "Superior" by BauerFinancial. CNB was voted Best Community Bank, Best Business Bank, Best Bank for Commercial Real Estate, Best Bank for Jumbo Loans and Best Private Bank by the readers of the Daily Business Review. The South Florida Business Journal named CNB "Business of the Year" in 2013 and "Community Bank of the Year" in 2013 and 2011. CNB offers a diversified portfolio of financial products and services in 26 convenient banking centers from Miami-Dade County to the greater Orlando area