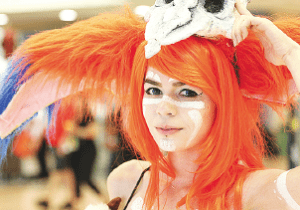 Florida Supercon, one of the largest comic cons in the southeastern United States, is re-turning to the Miami Beach Convention Center once again for its 11th year on July 1-4, 2016. This year's show will feature celebrity guests, comic book creators, voice actors, industry guests, cos-players, artists, writers, panels, Q&A's, films & shorts, costume & cosplay contests, vendors, parties, anime, workshops, video gaming and more. An attendance of more than 55,000 patrons is expected this year. Fans will have the opportunity to meet their favorite celebrities, voice actors, and comic book guests and enjoy more than 700 hours of programming including panels, Q&As, professional photo ops, costume contests, film festivals, and late night parties.
Some of the highlights for Florida Supercon 2016 include:
Star Trek 50th Anniversary Celebration: William Shatner "Captain Kirk," Karl Urban
"Dr. McCoy," Walter Koenig "Pavel Chekov," Michael Dorn "Worf," Denise Crosby "Tasha Yar," Robert Picardo "The Doctor," René Auberjonois "Odo," Robert Duncan McNeill "Tom Paris,"  David Warner "Chancellor Gorkon & St. John Talbot," Chase Masterson "Leeta the Bajoran," and Star Trek: The Motion Picture Cinematographer Bruce Logan.
DC's Legends of Tomorrow stars: Arthur Darvill "Rip Hunter" and Casper Crump "Vandal Savage."
FOX's Gotham star: Ben McKenzie "Jim Gordon."
Doctor Who stars: Alex Kingston "River Song" and Arthur Darvill "Rory Williams."
The Walking Dead cast members: Michael Cudlitz "Abraham Ford" and Denise Crosby "Mary."
Star Wars cast members: Jeremy Bulloch "Boba Fett," Tim Rose "Admiral Ackbar," Jessica Henwick "Jessika Pava," Chris Parsons "4-Lom," and Star Wars: A New Hope special effects coordinator Bruce Logan.
First Time Ever TRON Reunion: Bruce Boxleitner "TRON," David Warner "Sark," Cindy Morgan "Yori," and TRON cinematographer Bruce Logan.
Game of Thrones cast members: Natalia Tena "Osha" and Jessica Henwick "Nymeria Sand."
Harry Potter stars: Natalia Tena "Tonks," and Devon Murray "Seamus Finnigan."
Sesame Street cast members: Emilio Delgado "Luis" and Bob McGrath "Bob Johnson"
Steven Universe stars: Zach Callison "Steven," Michaela Dietz "Amethyst," and Grace Rolek "Connie."
Wrestling Superstars: Mick Foley, Diamond Dallas Page, Jerry "The King" Lawler, Mickie James, The Godfather, Road Warrior Animal, and Demolition.
Comic book legends Neal Adams, Allen Bellman, Jose Delbo, Elliot S! Maggin, Keith Giffen, Trevor Von Eeden, and José Luis Garcia-Lopez
This year, Florida Supercon will be partnering with the Fillmore Miami Beach at the Jackie Gleason Theater. The historic landmark will serve as the main events stage for Q&As and Supercon's headlining guests on Saturday, July 2nd and Sunday, July 3rd.
Cosplay and Costume Events and Competitions
Florida Supercon has the largest cosplay and costuming events of any convention in the state of Florida, with non-stop panels, workshops, contests and photo shoots for 4 days straight, including:
Costume Competition is the most competitive costuming event in Florida with over $5,000 in cash and prizes available. The contest is open to all skill levels to ensure both novice and experienced costumers have a chance to shine.
Masquerade Costume and Performance Competition is where costuming and cosplay go to the next level! Over $2,000 in cash and prizes will be awarded! Contestants can enter as individuals or as a group and will be judged based on costume craftsmanship and stage performance.
FSC Video Game Costume Contest will be "Runway" style. There will be no pre-judging. Contestants can enter in store bought or homemade costumes. In 2015, Florida Supercon attracted over 50,000 guests and had an economic impact on the city of Miami of $3.5 million.
Florida Supercon will take place at the Miami Beach Convention Center, 1901 Convention Center Dr., Miami Beach, FL 33139. Special hotel rates and flight discounts can be found on our website at www.floridasupercon.com.