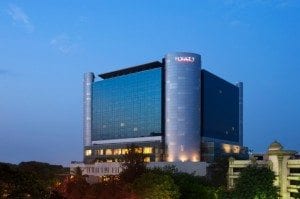 On October 30th, The Commonwealth Institute of South Florida (TCI) will host their 12th annual Leadership Luncheon at Jungle Island, featuring guest speaker Maryam Banikarim, Global Chief Marketing Officer of Hyatt Hotels Corporation. This event brings like-minded professional women in leadership positions together to share in an inspiring conversation with one of the country's the top women executives.
Maryam will use her own professional experiences to explain how she has achieved success in a variety of industries, excelled to leadership roles, and navigated through common challenges many women in executive positions face. Lead by Katie Kempner, founder of Perspectives with Katie Kempner and Kempner Communications, the discussion will also focus on how Maryam has used her entrepreneurial talents to drive change, risk-taking, courage, and creativity; all of which she credits to her professional success.
"We are very honored to have Maryam at our luncheon this year, to share her professional experiences and advice, especially at such a pinnacle time for women-led businesses," says TCI Executive Director, Laurie Kaye Davis. "She is truly a trailblazer for women's success in the workplace. In every position she has held, she has challenged the standard and made it better. Her courage inspires us and makes us feel optimistic for the future of women in leadership positions."
As Hyatt's CMO, Banikarim is responsible for bringing the company's brands and experiences to life while facilitating innovation around the guest experience and driving growth.
Before she joined Hyatt, Maryam was the first CMO at the Gannett Company. Additionally, she has served as Senior VP at NBC Universal and CMO for Univision Communications, Inc., and founded a strategy firm, consulting for such clients as Deutsche Bank, Bacardi and Time-Warner. She also holds an impressive roster of accolades including, The New York Post's "50 Most Powerful Women in NYC," Fast Company's "Fast Fifty" list of corporate trailblazers and trendsetters, Fast Company's "Top 10 Disrupters," Crain's New York Business and Advertising Age's "40 under 40," Advertising Age's "Women to Watch," Fast Company's "Most Creative People in Business 1000," and most recently Adweek's "Changing the Game" list of advertising women of New York.
TCI's Leadership Luncheon will take place on October 30th from 11:30 a.m. to 2 p.m. at Jungle Island in the Treetop Ballroom, 1111 Parrot Jungle Trail, Miami, FL. For ticket inquires and purchases please contact Katie Doyle at (305) 799-6547 or KDoyle@commonwealthinstitute.org.
About The Commonwealth Institute:
TCI helps women business leaders become and remain successful.
The Commonwealth Institute (TCI) is a non-profit organization devoted to advancing businesswomen in leadership positions in Massachusetts and Florida.  We are ambitious, success-oriented women committed to growing our respective organizations and to supporting each other as we accomplish our individual goals.
Our membership includes CEOs, senior corporate executives, entrepreneurs, directors of nonprofits and solo professionals who are committed to building successful businesses, organizations and careers. We come from a range of industries and from a variety of backgrounds.  We run large companies, we lead small companies, we manage nonprofits, we work as sole proprietors.  We are a community of women offering a collaborative brain trust for fellow members and a platform for each of us to achieve our goals.
What we do and how we do it.
TCI makes a difference.