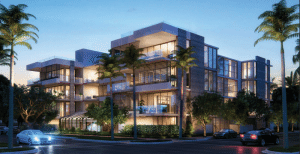 Property in the Exclusive South of Fifth Neighborhood Set to be Complete in First Quarter of 2017
MIAMI BEACH, FL (Dec. 17, 2015) – Louver House, a 12-residence boutique development by Mast Capital, broke ground this December and is set to be complete in the first quarter of 2017. Designed by award-winning architect Rene Gonzalez, the luxurious three-story condominium also announced its sales success with over 50 percent of the residences under contract.
The ceremonial groundbreaking took place on the construction site and was an intimate, shovel-in-hand celebration among the development, design, contracting and sales teams. "Louver House stands out because it has a single-family home feeling, where you have the benefits of privacy in an intimate community," said Camilo Miguel Jr., founder and CEO of Mast Capital.
"It's humbling that buyers have been so receptive to that vision."
Lead by ONE Sotheby's Realty, sales for the project launched in January 2015. Louver House is located in the historic South of Fifth Street neighborhood of Miami Beach with prices ranging from $2.5 million to $3.9 million.
"We have very diverse buyers," said Anna Sherrill, director of sales, "Many are looking to move to Miami Beach permanently, so we're thrilled that they saw that opportunity in Louver House and in South of Fifth."
 About Louver House:
With only 12 residences, Louver House is nestled in the historic South of Fifth Street neighborhood of Miami Beach, a residential area noted for its art deco and mid-century architecture, as well as the enveloping natural landscapes of both tropical vegetation and the sand beaches of the Atlantic Ocean. The property will boast a number of amenities, including a health club with an outdoor yoga area, pool deck with negative edge pool, landscaped lounge area, rooftop terrace, sunken lobby gardens as well as electric vehicle charging stations.
Famed artist Michele Oka Doner was commissioned to create custom bronze sculptural tables and benches to sit in the sunken lobby gardens, and they were crafted to mesh seamlessly into the property's design. Louver House will have units ranging from 2,088 to 2,432 square feet and prices range from $2.5 million to $3.9 million. Sales and marketing for the Louver House are exclusively handled by ONE Sotheby's Realty.
For more information please visit: http://louverhouse.com/
Special Thanks to our Media Contact:
Zakarin Martinez Public Relations / 305-372-2502 / samantha@zm-pr.com